It's not what you say, it's how you say it?
On 27 October, the High Court ruled against Felix Ngole, a social work student, who was in court for a judicial review of his expulsion from his university course after he expressed his biblical beliefs about marriage during a Facebook discussion.
Ruth Woodcraft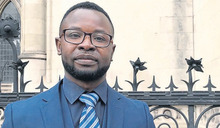 Reading through the court documents, it becomes clear however, that Ngole was not categorically expelled due to what he said. The situation is more complex. The judge was called to decide whether the university had, in essence, treated him fairly.