Alverstoke: expecting a harvest
Andy Bruno was welcomed to Alverstoke Evangelical Church (AEC) on 23 October, after having started work at AEC at the beginning of September as assistant pastor.
Colin Dyer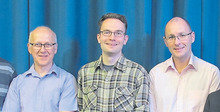 Brothers and sisters from Andy's previous home churches gathered, and it was evident from the reports given, and from those who were there, that he was much appreciated in those places.
God's provision
Andy's appointment came after a time when he was not successful in finding a job. Yet, in his comments at the service, Dan Strange said how opportune and helpful this proved to be to East Finchley Baptist Church. It gave them someone in Andy with both the time and preaching ability to carry the church through a difficult period (with the illness of their pastor, and with Dan's increased work commitments at Oak Hill).
Great expectations
Danny Rurlander from Moorlands Church, Lancaster spoke on the 'Great Expectations' that can be had about the final gospel harvest. His illustration of Jack and the Beanstalk was particularly poignant in explaining the exponential growth of the mustard seed to its final tree.
It was a really good day, with an opportunity for this church to join with other people and put a marker in time as to God's provision. It is also a step of faith for the church in taking on a second worker, with a hope for growth in numbers and in depth of understanding.