Empathising with MS
This book is a gem! In short, it describes the life and testimony of Leslie Yates and his wife Ann, who has Secondary Progressive Multiple Sclerosis (MS). The first part of the book is actually taken up with Leslie's testimony, which is thrilling and compelling. It was really an unexpected pleasure to us. The testimony lays the foundation for the second part of the book.
Jonathan and Clare Hunt

pastor, and wife who has MS, Morton Baptist Church, Thornbury, Bristol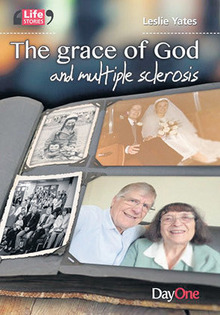 THE GRACE OF GOD AND MULTIPLE
SCLEROSIS
By Leslie Yates
Day One. 95 pages. £6.00
ISBN 978 1 846 255 915
Very few details are spared as we are given an insight into the more recent years of their marriage, with Ann's growing dependence on Leslie made plain. Make no mistake, this is an account of 'terrible suffering' (to quote their pastor) and yet God is glorified in the patience, endurance and meekness of these dear saints.
Moved to tears and laughter
This book is written in a lively style, and had some moments which moved us to laughter and to tears – sometimes both! Perhaps a personal acquaintance with some of the struggles recounted gave us a greater sympathy – that is hard to say, but it is written in such a way as to be relevant to all Christians. One of the strengths of this work is that it contains a clear explanation of what MS is, and it lays out the many effects that MS can have. It also gives some helpful and practical advice to carers. Another great strength of the account is the frankness, honesty and detail which some may find painful, but which leave the reader in no doubt that this is 'the whole truth'. Personal failures and the battle with sin are not covered up, which is commendable and practically helpful.
You could read this book in a short space of time and we are sure that, if you do, you will want to read it again. Wholeheartedly recommended!