Nigeria: books for children
Through the help of ACTS (and kind donors in the UK), the Revd Daniel Gula and his wife Kathleen were able to distribute gifts of age-appropriate books to 40 families (with 140 children) during the summer.
ACTS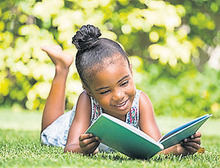 These families were displaced by Boko Haram attacks from the Gwoza area of northeast Nigeria. The books were received with great delight. The Gulas encouraged the parents (who could read English) and the older school children to read to the younger ones.