Scotland: School in Theology
The 65th Free Church School in Theology met in Larbert, from 4 to 7 September.
Andrew R. Allen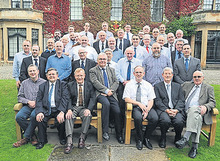 With 2017 being a Reformation anniversary year, it was fitting that the first paper was 'Luther the Reformer' by the Revd John W. Keddie. Mr Keddie reminded us that Martin Luther was God's man for the times. He was a man of courage, conviction and prayer. We were encouraged to cry out to the Lord with great urgency today for such a man of God for the Reformation of the church in Scotland and the Western world.