To Norwich
On Sunday, 3 September, the Revd Dr Richard James became the 17th Rector of Holy Trinity Church, Norwich, a lively Bible teaching church near the city centre.
Holy Trinity Norwich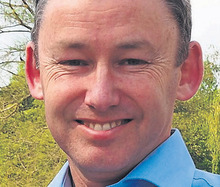 Richard was previously Vicar of Christ Church, Cockfosters, North London, but has strong local connections. He grew up in Norfolk, attended school in Norwich and as a teenager joined Holy Trinity's youth group, where he became a Christian in the mid-1980s. 'It is very exciting to be coming back to my church roots here in Norwich, … over 30 years later, as Rector of Holy Trinity', he said.