Laugh with Luther
This short play, which I saw at the Edinburgh Fringe, promised to put the 'wit' back into Wittenberg and this reviewer was not disappointed.
Euan Dodds,

Outreach co-ordinator, Holyrood Evangelical Church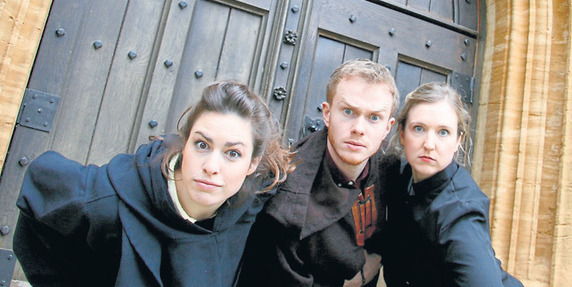 A MONK'S TALE:
Relics, Revolt and Reformation
By James Carey
On UK tour until 18 November
A Monk's Tale is written by James Cary, who is both a Christian and a comedy writer. He has collaborated on Miranda for TV and Another Case of Milton Jones on the radio. His previous play The God Particle was well received and this latest work commemorates the 500th anniversary of the Reformation and seeks to explain the 95 theses in 59 minutes.
Put at ease
The three actors open with a light-hearted song acknowledging British reserve in speaking about faith ('don't start an argument, don't mention religion'). Immediately the audience is put at ease and any anxiety about attending a 'religious' drama dissipated. There then follows a sequence of scenes which introduce the main characters and controversies of this tumultuous period. The script is, as you might expect, extremely polished and bursting with puns and one-liners. Many of the jokes allude to developments in modern culture and the play would be equally accessible to the teenager or young adult.
The gospel explained
The cast was faultless and they were visibly enjoying themselves – this towards the end of the run – as they acted out a sequence of scenes, from the Ascension through to the Diet of Worms. My biggest laughs came during the songs, which are worthy of particular mention. Each draws on a different musical genre and features some highly imaginative theological lyrics. In the closing scenes Luther helpfully spells out his understanding of the gospel and this provides a natural stepping stone for evangelistic conversations after the show.
I found this production succeeded in being both entertaining and educating. It would be especially accessible for youth or student groups. My criticisms are only minor: There were a couple of tiny historical inaccuracies. And, having myself a large number of Roman Catholic relatives, I wondered if a serious-minded Catholic might find one or two scenes a little cheeky. That said, the play is so well-meaning and the cast so thoroughly likeable, any parody is clearly not malicious (and the oft-divided Protestant churches are brought down a peg or two in one of the sharpest scenes toward the end). The play is neither irreverent or 'cheesy' and deserves the widest possible audience when it tours around the UK until 18 November 2017.
www.amonkstale.net www.facebook.com/amonkstale/ A Monk's Tale (@amonkstale) on Twitter