Vietnam: more arrests
Pastor Nguyen Cong Chinh, a Vietnamese pastor and former prisoner of conscience, arrived with his family in the United States following release from prison on 28 July. His release, which was conditional on the basis that he leaves Vietnam, came amid a spate of arrests of human rights activists in the country.
Christian Solidarity Worldwide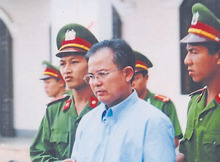 Pastor Chinh, a passionate advocate for religious freedom and the rights of ethnic minorities and indigenous peoples, had been serving an 11-year sentence for 'undermining national unity' under Article 87 of the Penal Code.