Nigeria: journalist jailed
A Christian journalist in Nigeria's Kaduna State was returned to jail in July, following a bail hearing in which a judge set bail terms so stringent that they have been described as 'nearly impossible'.
Christian Solidarity Worldwide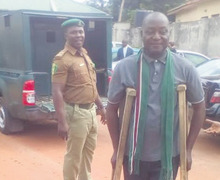 On 12 July, Justice Bashir Sukola remanded Mr Binniyat in custody for writing a story about an attack by armed Fulani herdsmen in southern Kaduna that later proved incorrect. Mr Binniyat's case highlights an erosion of press freedom and the inequality before the law of different religious communities in Kaduna State.