Leslie Jarvis
1938 –2017
On 27 July 2017, the funeral and thanksgiving service for Leslie Jarvis was held at Market Street Chapel, Hailsham. The chapel was full with family and friends from many churches.
Jonathan Jarvis and Howard Sayers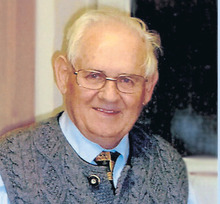 The spirit of thanksgiving and worship, especially through the singing of Leslie's favourite hymns, was a testimony to the grace of God in his life and a wonderful support to Leslie's wife Nettie and his family. Jonathan Jarvis gave a message of thanksgiving and reminiscence on behalf of the family, Pastor Paul Relf gave the reading and prayer and Pastor Howard Sayers spoke from Philippians 4.