Tajikistan: pastor charged
Ten weeks after the National Security Committee (NSC) secret police arrested Protestant pastor Bakhrom Kholmatov in the northern city of Khujand, his criminal case was handed to Khujand City Court on 22 June for trial.
Forum 18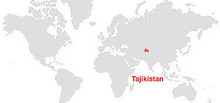 No date appears to have been set for the trial to begin. Officials refuse to reveal what charges the pastor is facing. 'We have not yet decided who will lead the case or when we will hear it, since it only arrived today,' Judge Sharifzoda said. She declined to discuss the case or say what the charges are against the pastor.