North Korea: women helped
Every year, 150–200 women are helped by Open Doors, as they escape North Korea's poverty and oppression and flee to China.
Open Doors UK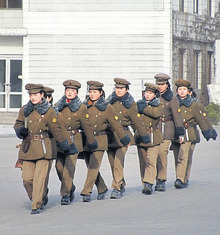 Given practical assistance, pastoral care and Bible studies, this story of Lady H,* a trafficked North Korean woman, typifies the work that is done.
Nobody cared about Lady H's life. She risked everything to cross the border river into China, because her family had been starving for a long time. One of her parents almost died.
Not supposed to happen
Lady H was actually an honoured party member. This wasn't supposed to happen to her. So, she risked her life and didn't care if she died. She had no hope for the future.
When hiding and living in a small village near to the mountain, she was helpless and lost, without anyone. She was invited to join the women's secret meetings. At that moment, Jesus came to her. It was the first time she had heard about and realised that there was a Jesus who paid all debts for her on the cross.
At first, Lady H was laughing at Jesus – how stupid he was. How could he die for a sinful person? However, later her cheeks got wet with tears when she realised that there was someone like Jesus who actually cared about her and loved her so much. She had never heard about unconditional love.