Wye Jesus
Bethesda Evangelical Church (Hay-on-Wye) and EMW, with Show Jesus, an evangelistic enterprise, supporting, spent four days seeking to share the wonderful news of Jesus and his love with folk attending the International Hay-on-Wye Literature Festival in late May.
Evangelical Movement of Wales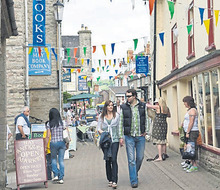 Following the theme – 'LIFE - what's your question?' the gospel was shared through artistic skills including pottery, storytelling, poetry and through preaching. Michael Ots spoke on suffering linked to the tragic Manchester bombing. Local author and church member Ollie Balch led a guided tour around Hay.