The Bible acquitted in court
The acquittal of two Christian street preachers in late June was a victory for the public reading and teaching of the Bible, and for free speech and freedom of religion.
Christian Concern / various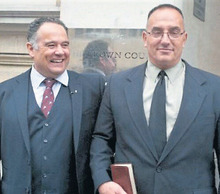 Prosecutor Ian Jackson claimed that publicly quoting parts of the King James Bible in modern Britain should 'be considered to be abusive and is a criminal matter'.
Dubbed a 'modern-day heresy trial', Mike Overd and Michael Stockwell had been found guilty under the Crime and Disorder Act 1998 at Bristol Magistrates' Court in February.
Freedom of speech emphasised
They had been arrested in July 2016 after preaching in a Bristol shopping centre. A noisy crowd had gathered around the men who appeared to be amplifying the preaching and after exchanges with the police where one was hesitant to give his name to the officer – all caught on the camera used by the preachers – they were arrested.
During the hearing, emphasis was put upon the importance of freedom of speech, even in cases where the speaker does not necessarily hold the views being expressed. It was also argued that there is no right not to be exposed to contrary ideas, adding that should passers-by not wish to hear the preaching, they were able to walk away.
Both Mr Overd and Mr Stockwell spoke of their motivation to share the gospel with others.