Olympic bike breakthrough
On 3–8 July, Professor Stuart Burgess exhibited his Olympic bike work at the headquarters of the Royal Society in London near Buckingham Palace.
en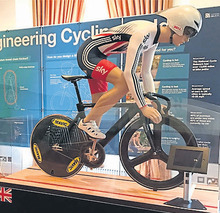 His team's chain drive engineering was used on all the Team GB 2016 track bikes. Every part of the bike, which travels at up to 50 miles an hour, had to work as efficiently as possible. The best combination of chain and sprockets was required, but current test rigs using a turbo trainer were found not to be accurate enough. A pendulum system and a laser to measure its movement was devised to measure efficiency by monitoring how slowly the pendulum came to rest.