EMA 2017: fruit amid the battle
It wasn't easy to find the Barbican Centre for this year's Evangelical Ministry Assembly (EMA) amid London's burgeoning road and building works. But it was worth the tricky navigation for Tuesday – Thursday, 27–29 June.
JEB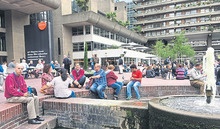 The conference theme was 'Bearing Fruit and Growing', with the morning Bible readings coming from Ephesians. These were given by Andy Gemmill of the Cornhill Training Course in Scotland and reminded those there that, amid the spiritual battle, 'your church is what Christ's rule looks like now.' We need to 'do church' (I'm not sure I like that phrase) by faith, not by sight, because for all its present flaws the church displays God's wisdom to the astonishment of the heavenly powers.