The new Gretna Green?
On 8 June, the Scottish Episcopal Church voted at its General Synod to permit same-sex weddings in its churches.
Martin Ayers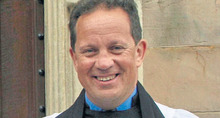 The Scottish Episcopal Church (the SEC) is the Anglican Province in Scotland. A relatively small province, it 'gave birth' to the Episcopal Church of the United States (ECUSA), by consecrating America's first bishop.