Algeria: God has raised up his church
When OM Field Leader Youssef and his wife Hie-Tee moved to his native Algeria in 1988 to establish an OM ministry, a revival among the Kabyle people was already sweeping the northern region. 'Before 1981, there were very few believers,' Youssef said. Today, he knows of believers in every one of the 2,400 Kabyle cities, villages and towns.
OM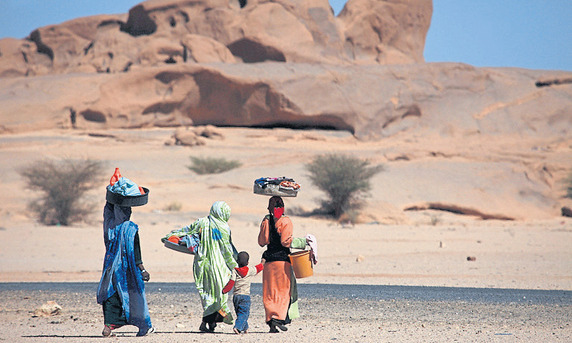 In July 1981, the early Kabyle church, 40 to 50 believers, started a two-year process of praying and fasting, memorising 365 verses about fear. A new Kabyle radio ministry broadcast sermons and teaching across the region, and a church in Ouadiha, led by an Algerian-Swiss couple, began a wide literature distribution campaign in villages and showed the Jesus film in local cafés.
Faith, prayer and fasting
Simple faith spread among the Kabyle, sparked by miraculous signs and wonders and developed through prayer and fasting. Since Algeria was closed to most foreign missionaries, the Algerian church depended on God alone during its formative years. The Kabyle people's lack of fear and their boldness contributed to the rapid revival. 'They live their faith openly,' Youssef said. 'The other thing that has helped is prayer from all over the world.'
In 1962-63, a group of OMers drove across North Africa and the Levant, distributing flyers for the then North African Mission's (NAM) Bible correspondence course. The follow-up – hundreds of letters pouring into a Tunis-based letterbox daily – led to the NAM workers' expulsion from North Africa and the organisation's re-creation in southern Europe, where it continues today as the Radio School of the Bible. 'Long-term workers realised that media had a vital role to play and that there were thousands interested to know about the Christians' book,' a long-term OMer explained.
House of hope
During their first years in-country, Youssef and Hie-Tee concentrated on pioneering efforts and helping the church in Oran. They often hosted believers from the Kabyle area, thrilled to hear what God was doing and recognising many needs. In 1996, they established the House of Hope as a platform for future ministry. They recruited four and then more Kabyle believers to join the team that facilitated ongoing summer camps and the Timothy School, a training programme for Algerian believers.
Every year, 10 to 12 outside teachers travel to Algeria to partner with the Timothy School. Many came from within OM; others arrived from seminaries and churches around the world. 'The team of teachers… had a huge impact on so many lives,' Youssef stated. 'That was one of the biggest blessings OM [gave to] the Algerian church.'
At the Timothy School, students experienced healing and learned biblical doctrine to supplement their existing faith and zeal, Youssef said. They also regularly received visions from God for future ministry.
Returning home
Mustapha, a Timothy School graduate, told Youssef about his dream to start a church in his village. Equipped through the teaching and having received modest financial support, Mustapha returned home after training and started a church. Today, a team of believers oversees both the church and a school.
Believers Mouloud and Ali attended a summer camp in the early 2000s, where they also received a vision to start a church. With no physical gathering place, they began meeting in the woods. Now their church owns land and a building, where believers gather weekly. At least 25 people have established ministries in the Kabyle area directly resulting from the Timothy School or camps, Youssef said. 'It's amazing what God has done.'
The House of Refuge, opened in 2009, receives Algerian believers suffering for their faith. Over 400 people have passed through the house, with most staying for one to two weeks. One woman has lived there for eight years and currently works with a quail farming project.
The church is visible
Today the Algerian church is visible and viable, having received official recognition from the Algerian Government in July 2011.
When the A4M (Algerians 4 Missions) training centre, currently under construction in the Kabyle area, is finished, OM plans to open the Timothy Mission School. 'Missions will be top priority,' Youssef explained. Already OM has sent out two couples and two singles into full-time ministry.
In July 2016, Youssef and Hie-Tee led a team of four Algerians to Malaysia, where they distributed over 500 gospels, New Testaments and Jesus films, and saw many people come to faith. 'Among the refugees there and the Arabs, there's huge openness now, especially among the Syrians, Iraqis and Omanis,' Youssef said. While there, they set up a committee within a Malaysian church to receive Algerians as missionaries in the future. 'We believe that Malaysia is only the step. We would like to go further,' he continued. 'God is enlarging our dream.'