Machines taking over?
The author, who is a research director for the Jubilee Centre (a Christian 'think tank' based in Cambridge), opens this book by looking at digital currency, the best know of which is Bitcoin.
David Clark

runs an IT company and is author of You, Your Family and the Internet and What does the Bible really say about Social Media, both published by DayOne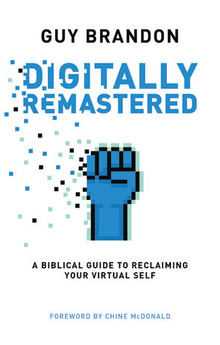 DIGITALLY REMASTERED:
A biblical guide to reclaiming your virtual self
By Guy Brandon
Jubilee Centre. 164 pages. £9.99
ISBN 978 1 910 012 76
This is an area that he has researched and consulted in. His description of the technology is clear and helpful and his examples insightful. In particular, the details of how a technology which was developed to democratise international payments (avoiding costs and controls imposed by the financial world) has led to abuses and formed a platform for criminal activity, since Bitcoin payments cannot be traced in the same way as regular currency.
Impact on life
The author further explores the impact on our lives of our 'always on' 24/7 society, which makes us always available (particularly for work), with the average person 'checking their smartphones 150 times a day'. In contrast, the author maintains that the biblical principle of rest, enshrined most succinctly in the Sabbath rest, is not just a rest from physical work, but should also extend to our spiritual and mental wellbeing.
The book covers topics such as: online identity; consumerism, which the author views as 'our culture's dominant ideology' and which is fed by the Internet's vast array of choices; the amount of information we give away online; privacy; anonymity; and mass surveillance. His views on privacy and surveillance, while helpful, include some comments that, at best, could easily be misunderstood: 'Reduced autonomy means that we are no longer free to act according to our conscience. The freedom won for us through Christ's death is compromised by our own actions' (p.120). And again: 'When we do not resist the loss of privacy – due to government or corporate surveillance – we allow Caesar to take the place of God' (p.134).
Carefully consider
The views expressed in these chapters are ones that the reader should carefully consider, particularly in the light of Christian history in which we find state-sponsored surveillance, not only 'reduced autonomy' but loss of liberty and slavery, all spurring Christians to acts of sacrifice fuelled by love for God and refusal to go against conscience. I would also hesitate to follow the author's recommendation to use the TOR browser to provide increased anonymity, as this opens up access to the 'dark web', in which some serious criminal activity takes place.
Nevertheless, it is refreshing to read a book by an author that actually understands technology and its underlying principles, as well as grasping its biblical implications. He views technology as 'neither good, nor bad, nor neutral', but as 'a tool in the hands of those who wield it and it implicitly reflects their aims and values'. This is a very insightful comment and leads to the only critique I have, namely that the book focusses too much on the negative and largely fails to explore the opportunities that we have. Rather, we also should use the Internet to 'reflects our aims and values'. This book is very good at making us aware of the dangers that we face in the Information Age. However, the world has changed in deep and fundamental ways. No matter how many 'digital detoxes' we go through, the world is never going to be the way that it was, and as Christians, our role is not to wish for the 'old' or to simply dwell on the dangers, but to understand the biblical alternative and live accordingly, so as to 'shine as lights' in a world that has always been dominated by sin. Perhaps the author could explore these areas in a future book.
I would recommend this book. At the very least it will cause the reader to think more deeply about issues that surround our digital society, and it will almost certainly provide helpful and biblical insights.