John MacArthur's secret?
Iain Murray elucidates the story and the fundamental convictions of the man at the centre of a worldwide ministry
Iain Murray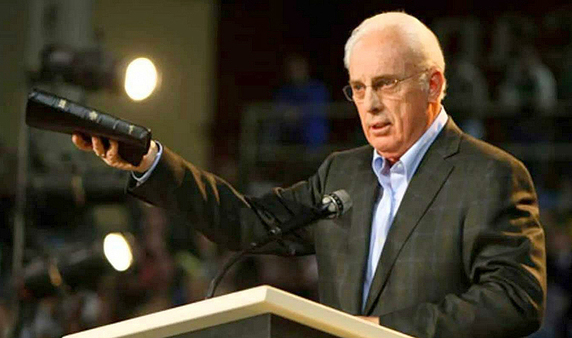 John MacArthur was born on 19 June, 1939.
He is best known for his internationally syndicated Christian teaching radio programme Grace to You and has been the pastor-teacher of Grace Community Church in Sun Valley, California since February, 1969. He is also currently is the President of The Master's University in Newhall, California and The Master's Seminary in Los Angeles, California. His teaching reaches thousands upon thousands around the world.
Car crash
Brought up in a Christian home, and under his father's ministry, John MacArthur did not know a time when he was not sav-ingly related to Jesus Christ, but it was a car crash in his second year at Bob Jones University, South Carolina, in 1959, which God used to call him to the gospel ministry. Thrown out of the car in which he was a passenger at 70 miles an hour, the third-degree friction burns he suffered necessitated three months in hospital. Life was suddenly serious for him in a way it had not been before. His own thoughts of what his future might be were laid aside, together with a resistance to becoming a preacher.
That calling to the gospel ministry led to a firm purpose. He finished his Bachelor's degree in California, then proceeded to Talbot Theological Seminary. It is what happened after Talbot that I mention as another life-changing decision. Whether by the advice of others or his own choice, in 1964 he sought to prepare for entrance to Claremont School of Theology to study for a doctorate in theology.
This involved two terms in the study of the German language, and familiarity with about 200 titles required by the reading list given to him. It became apparent to him that the list contained little other than liberal theology and humanistic philosophy. Further, a course had to be taken on 'Jesus and the Cinema', which involved watching a number of contemporary films and deciding whether or not they were supportive of the 'Jesus ethic'.
Doors closed and opened
For a young man of 25, eager to find entrance for the gospel in wider circles, there must have been a temptation to go through the training for the prestigious degree which Claremont offered. But he made the right decision. His divine Saviour reduced to an 'ethic' was too much for him. Taking his college papers back to his adviser, he told him, 'I have spent all my life learning the truth, and I cannot see any value in spending the next couple of years learning error.' The academic door closed, and a far greater one was to open.
A wife's investments
Life-changing in the fullest sense of the word was MacArthur's marriage to Patricia Sue Smith in August 1963. It had the foundation of every happy Christian marriage, first, commitment to Jesus Christ, and then to each other. Only then will priorities be in the right order. Without Patricia his whole life and ministry could not have been what they became. In his own words: 'The degree to which I have enjoyed success as a father, as a husband, and as a minister of the gospel, is a result of the investments she made in me each day.' On their 40th wedding anniversary in 2003 he wrote:
'Through Patricia, God has filled our home with love, grace and kindness. He has provided for me a godly partner and a daily source of joy, support and accountability.'
If whom we marry is the next most important thing to being a Christian, it is doubly so for every pastor.
By the time that John MacArthur began his ministry, feminism was beginning to present a new idea of true womanhood, which he was called to oppose. But he was to do so, not by making woman the same as man, but by giving her the high place which the word of God gives to her:
'Eve was created … a token of the marvellous grace of God to man. She was in no way an inferior character made merely to serve him, but she was his spiritual counterpart, his intellectual co-equal, and in every sense his perfect mate and companion.'
Attacked and unsupported
MacArthur's first ten years at Grace Community Church were comparatively quiet formative years, then, in 1979, events occurred which brought new dimensions to the ministry. The change began with a sudden outbreak of opposition. On 3 February, the Los Angeles Times attacked his preaching under the heading 'Woman's Place is at Home'. More hostile media followed two months later when a young man who belonged to the church shot himself after a broken relationship with his girlfriend.
Closer still was a blow from close associates. While his elders were supportive, some of his pastoral staff, unknown to him, were not. To his shock it came into the open at a staff meeting in the early summer of 1979, when the leader of a mutiny told him: 'If you think we are your friends you have another think coming.' Significantly, all this happened while he was preaching a series on the Sermon on the Mount, spoken of as the most used series in the first 11 years of his ministry. John himself saw those sermons as 'a major turning point in the life of our church'.
Memorable vacation
It so happened that the summer of this same year, 1979, had been planned as his first extended family break. For three months, with Patricia and their four children (Matt, Marcy, Mark, and Melinda), they toured the United States in a van. John would later speak of the time as 'the most interesting and memorable vacation we've had'. But it also had spiritual significance and 'ended up being important in shaping my ministry at Grace Community Church and at Grace to You'. Before this date, numbers at the church had risen steadily, and an organisation within the congregation took care of the circulation of tape recordings and the contacts with a few radio outlets. John recalled: 'While the ministry was growing, it was still small. Yet I had no idea how far-reaching and in demand it had already become. The trip my family took helped show me.'
'Don't do anything different'
What was planned primarily as a sightseeing tour had led to many encounters with Christians and churches which were new to him. These unplanned meetings brought home to him that the pulpit of Grace Community was exercising an influence far wider than he had realised. The words of one young pastor stayed with him, 'John, don't do anything different and don't let anything change, because so many of us are depending on this kind of teaching.' Instead of being swayed off course by opposition, the summer of 1979 saw him confirmed in his belief in the power of the Word of God. It was the same lesson he found at home on their return in September when, as Phil Johnson reports, his preaching of three months earlier 'was still ringing in the hearts of people in the church'.
In the providence of God, the year 1979 also saw Mac Arthur make his first visit to Britain. The outreach of Grace to You was becoming international.
Faith in the Word of God
On occasion there have been enquiries made at Grace Community Church as to how the numbers attending were made to grow, the assumption being that there must surely be a formula of some kind which others could adopt. Such enquirers meet with a disappointment. 'I must ascribe our church's spiritual and numerical growth,' says MacArthur, 'to the will of our sovereign God. There are no marketing techniques or modern methods that can explain it.' He believes that God put him into the ministry at a time and in a place when there were numbers of the disillusioned and the confused whose hearts were to be opened to Christ. Such times and seasons are directed from heaven. There was no template to secure the same result elsewhere.
It was his view of Scripture that led MacArthur into his first pastoral charge. Other forms of Christian service were possibilities for him, but his overriding desire was to be settled where the study of the Word of God would be his chief occupation. He believed then, as he does now, that 'Scripture is an inexhaustible treasure that demands a lifetime just to begin to understand its riches. No one ever outgrows it or exhausts its immeasurable depth.'
This is an edited extract from Chapter 7 of Seven Leaders: Pastors and Preachers by Iain H. Murray, published by The Banner of Truth in May. ISBN 978 1 848 717 398 hard back 296 pages. £15