Iraq: worship returns to liberated towns
Hundreds of Christians celebrated Palm Sunday in Qaraqosh and Karamles, places that were recently liberated from the self-proclaimed Islamic State (IS).
Open Doors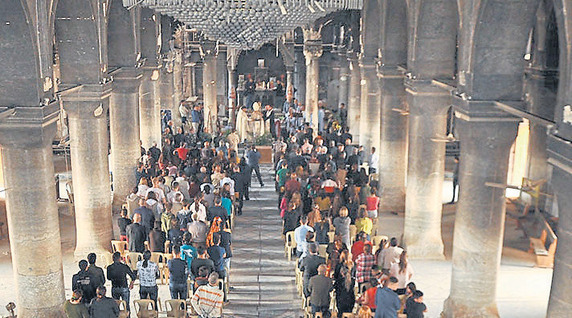 Qaraqosh was Iraq's largest Christian town until its 50,000 inhabitants were forced to flee in August 2014. The displaced Christians haven't been able to move back to Qaraqosh since the liberation of the town, as there is continuing insecurity in the region and houses and infrastructure have been destroyed.
Hundreds march through streets
But, for one day, they were able to go back and celebrate their faith in Christ. Hundreds of Christians marched through the streets, some carrying big banners saying 'Blessed is who is coming in the name of the Lord, hallelujah' or 'Hosanna for the Son of David', others walking with palm leaves. They then held a church service in the burned and damaged church. 'Thank God, we are returning to our towns and churches after two years,' said one of the church leaders in Qaraqosh.
Meal on the hill with tears
Karamles is a Christian village that was home to 800 Christian families before the invasion of IS; despite being liberated, the damage to the village means that families have not been able to return yet. But Father Thabet, the local church leader, organised for the church to be cleaned and repaired in the week leading up to Palm Sunday so that displaced Christians could return to celebrate. Between 400 and 500 church members went to Karamles for the big Palm Sunday celebration.
Father Thabet said: 'I am very happy we could do so. After the church service we had a meal on the hill of Saint Barbara. Seeing all the people made me cry. I was very happy to return and celebrate; this was very significant for me and for many people from Karamles.'
He was planning to move a big generator to Karamles after Easter, so that families that want to begin repairing their homes will have access to electricity. A house next to the church is being turned into a Centre of Encouragement and Support, where people can stay while they work on their homes.
'But this week we will have our preparations for the celebration of Easter,' Thabet says. 'We will have that celebration in Ankawa. We already had the celebration on Palm Sunday and it takes much to organise going to our village.'
Father Thabet is hopeful for the future: 'This year we are waiting to return back to our place and we hope we can celebrate the full Easter next year in Karamles.'