9 YEARS OF EXPLOSIVE GROWTH
Did you hear about the Scotsman, the Englishman and the three Irishmen?
Craig Dyer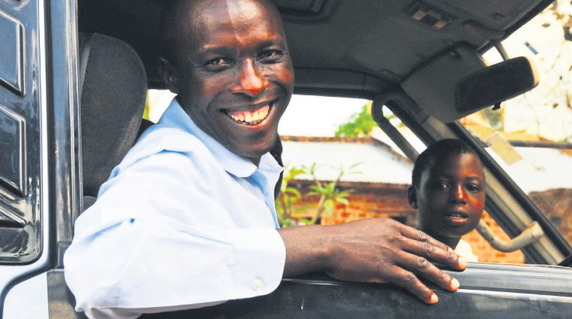 Well, no one is more amazed than them that, over the past nine years, around a million people in Uganda, Burundi, Rwanda, Kenya, South Sudan and now Congo have looked at Jesus in Mark's Gospel using Christianity Explored (CE ). As with all gospel growth, it is the story of God at work in and through his people.
I am the Scotsman, Stephen is the Englishman, brothers John and Brian are two of the Irishmen and the third is Jim.
Jim was an executive in the agrichemical industry when, knowing of his interest in their work, Kiwoko Hospital identified him as someone with the skills needed to project manage the hospital's development in rural Uganda. Although they had a strong interest in the work of the hospital neither Jim nor his wife Margaret previously had the faintest inclination to do anything like that. But, because they belonged to an encouraging church that took gospel mission seriously, and because they had an overwhelming sense of the Lord's hand on the matter, they retired early and moved from Bangor to rural Uganda.
Strong friendship
Anyone planning to introduce a million people to Christianity Explored in East Africa probably wouldn't pray for openings in rural Luweero – it is miles from anywhere. The Kiwoko region suffered some of the most appalling horrors of the guerrilla war between Yoweri Museveni and the government of Milton Obote. Kiwoko Hospital was established not long after the war ended in 1986, and Jim began to work there in 2003.
Jim soon developed a strong friendship with Shadrach Lukwago, the hospital pharmacist and leader of the Kiwoko mission team. At the end of a busy week's work, Shadrach would lead the mission team off into the bush for a weekend of evangelism and Jim often went with them.
After a trip home in 2006, Jim returned to Kiwokogave and gave Shadrach a copy of Christianity Explored, although he cautioned him that the images it used (such as red buses on Oxford Street) probably would not cut it in Kiwoko. How wrong he was! Shadrach studied the new resource carefully and told Jim that this was exactly what Uganda needed. This was because it would introduce people to the Jesus of the Bible – not the Jesus of the preacher's imagination.
From nothing to Kiwoko
At this stage, the Christianity Explored team in London knew nothing of what was happening in Uganda. But this is how God works, through his people, by his Word.
John is a Christianity Explored Ministries board member and a fellow elder with Jim at Hamilton Road Presbyterian Church, Bangor. It was John who first introduced Jim to the CE course. In 2008, John brought Jim back to London to update us and help us think through how we could support the launch of Christianity Explored in East Africa.
The following January John, Brian, Stephen and I arrived in Kiwoko with Jim for the first-ever Leadership Training Conference in the country. We gave about 1,000 church leaders and members a general overview of Mark's Gospel and of the course. Within a week, some of those we had just trained were training others at our second conference and this principle of handing responsibility to trusted local workers became the key to the rapid expansion of the course across the region.
Conferences
Since then, two training conferences a year have taken place. During this time, Shadrach has translated several of the Christianity Explored materials into Luganda, Swahili, Kirundi and several tribal languages. He also developed the Kiwoko Bible Institute (a type of Cornhill Training Course), in which he embedded Christianity Explored. The Institute trains hundreds of gospel workers, who have taken CE everywhere they go to lead gospel work and to train others in the use of the course. An early graduate of Kiwoko Bible Institute was Sam Oyirwoth. Together these two brothers now lead the work in East Africa, with Jim as the overall regional coordinator.
Now Christianity Explored is used across Uganda by churches – in their buildings, in homes and cafes, in schools and universities, in hospitals and prisons. Shadrach and Sam have witnessed the impact of the gospel on pastors and leaders as their confidence in the power of God's Word is renewed and strengthened. It is also seen in students and young people as they learn to live a cross-shaped life, and the thousands of unbelievers, nominal Christians and Muslims who have discovered – through Christianity Explored – exactly who Jesus is, why he came and what it means to follow him.
Snapshot of growth
I have just recently returned from the West Nile region of Uganda, at the end of a three-year training commitment there. Sam Oyirwoth reports that 52 youth leaders trained in CE are reaching more than 160 schools, each with at least 400 students. 330 'lay readers' functioning as pastors in local congregations have been trained and are using the courses among the 40,000 people for whom they have combined responsibility.
These results are a snapshot of how the work is growing across the whole of East Africa. So we look back in amazement at how the Lord has brought us the key people and the necessary funding, all of which was needed before the gospel could spread and strengthen in East Africa. And we thank God for their passion, humility and consistency of life and ministry.
We should also be encouraged and challenged by how God chooses to use his people, and make sure we are part of it. In particular, might there be another Jim and his wife out there right now – at a point in their lives when they could up sticks and serve in a new realm? Even where the comforts are so few and the need is so great?
How about you?
Might there be another John – someone who is passionate enough about Christianity Explored to see its potential in other regions and who wants to put a copy into a new pair of hands? And then watches what God does, supporting that expansion prayerfully and financially?
Might there be another Brian – someone who cultivated an informed interest in one particular aspect of the ministry, and gave his time and his resources to travel and train, to serve and encourage the brothers?
Might there be another Stephen – someone who offered his time and gifts in delivering training? And who, as a church leader, saw the strategic value of what we were doing and encouraged his church mission team to contribute to Christianity Explored ?
The Scotsman, Englishman and the three Irishmen would all agree with the Psalmist in Psalm 115: 'Not to us, O LORD, not to us, but to your name give glory, for the sake of your steadfast love and your faithfulness!'