Life is Christ, death is gain
Peter Jensen's sermon from the thanksgiving service for Mike Ovey, at All Souls, Langham Place on 13 March
Peter Jensen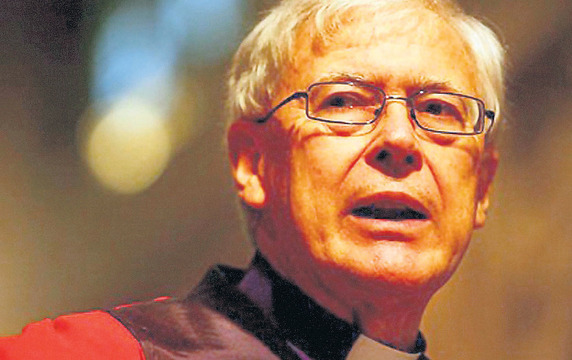 Here is the world's stark truth: you are either alive or you are nothing.
For us, in our world, you only live once; make the most of it. Death is the end – it is the great Oblivion, the great Nothing.
The contemporary world seems so assured. We know what life and death are. That is why we party. People will judge us; perhaps an obituary; it matters not; they usually say nice things.
But this is a desperate and melancholy charade. It cloaks pain, anxiety, loneliness. And yet, what if God is the judge, and he delivers your final funeral speech? To this we have no answer. In such a world, the stark truth of Paul sounds out: 'For me, to live is Christ and to die is gain.'
To live is Christ…
Into the chaos of Paul's life had come Jesus Christ. Paul was given a new identity and a single focus. He was a new man in Christ Jesus, translated from the kingdom of darkness into the kingdom of God's own dear Son and given the most precious of all gifts, the forgiveness of his sins.
The apostle cast aside his moral accomplishments, his privileges of birth, of education, of status, his professional advancements. Rubbish he called them, and garbage they were. For him, the greatest privilege was 'the surpassing worth of knowing Christ Jesus my Lord'.
Because he lived by Christ, he lived for Christ, striving in all things to please him. He prayed that Christ would be honoured in his body, whether in life or in death. So, he engaged daily, like all Christians, in the great struggle to put to death the deeds of the body by the power of the Spirit and to live instead by faith. He lived for Christ.
His losses were nothing. His life was dominated by his Lord. This one thing I do, he said, 'forgetting what lies behind and straining forward for what lies ahead, I press on toward the goal for the prize of the upward call of God in Christ Jesus.' 'For me, to live is Christ, and to die is gain.'
To die is gain
What gain is this? Not the Oblivion which is the best hope of the modern world, but the glory which is the work of the living God: 'our citizenship is in heaven, and from it we await a Saviour, the Lord Jesus Christ, who will transform our lowly body to be like his glorious body…'
We Christians grieve, but we do not grieve as those without hope; our hope is a Person, and such a Person: 'Forever with the Lord!' Our hope is to be with our resurrected Lord, for and living our resurrected Lord, and like being our resurrected Lord, for ever. However happy, healthy and fulfilled we are in this life, it is nothing compared with that eternal weight of glory. Paul calls this great gain 'going home.'
But longing for the heavenly future he was not unconcerned for this world and the people thereof. He says: 'My desire is to depart and be with Christ, for that is far better.' But then he says, 'to remain in the flesh is more necessary for your account'. His love for the Philippians is passionate and clear.
Remembering Mike
We are rightly met here today to thank God for Mike, to laugh perhaps, to weep, to remember and smile, to recollect with deep gratitude. All correct. But he himself would say to us that the first act of gratitude to the Lord today is that he took so sinful a man as Mike Ovey and redeemed him, saved him, forgave him, gifted him, enriched him with the love of his wife and family, set him in the church, and enabled him to preach the Saviour who was pierced for our transgressions. Here is the first point and the main point, at which we say together, praise the Lord!
Yet there is more. There is a special contribution we must not forget, because it is both so essential and so rare: it is Mike's vision for the churches and for theological education. Mike was utterly persuaded about the need of healthy and growing churches for the future of the gospel. And he rightly connected this with theological education.
He understood this as few of his contemporaries did. He knew the vital importance of healthy churches, churches in which the people live for Christ in an alien world, being taught the gospel and valuing it above all else. He knew that a church can rarely rise above its pastor; if the pastor is poorly trained, the church will be weak and vacillating. He knew that theological education is the key issue. A denomination can hardly rise above its seminaries.
He knew that this is more urgent than ever in a world which thinks that death is mere oblivion. If the ministers of the gospel are not properly prepared for ministry, the churches will wilt and the mission of Christ will be compromised.
And he determined to train the pastor-teachers who are Christ's gift to his church so that through their ministry, the body of Christ would not be victim to every wind of doctrine, but may build itself up in love. He wanted to see graduates who know the Lord and can make him known. How did he do this?
Theological education
First, he put the knowledge of God through sacred Scripture at the heart of the Oak Hill experience. God's revelation was a trust, of which we are the stewards. The Bible was not treated as a book to be decon-structed, but as the living and abiding Word of God to be understood, trusted and obeyed. It is clear in its testimony to Christ, it is authoritative; it is sufficient; it is unified. We are, he would say, stewards of knowledge, not masters of knowledge. There are many subjects in the curriculum, but one task, to know God and be equipped to make him known, and one authority, Christ Jesus who rules through his enscripturated word. You were taught to teach the Bible in such a way as to affirm truth and to deny error, both key aspects of a godly ministry.
Second, he made community essential to that by which we learn and grow. He saw that a good seminary is the product of its faculty: godly and able ministers of the new covenant, the humble stewards of the knowledge of God, who admit into their fellowship others who are learning Christ so that they may all be shaped by his Word and made better fitted for his service. He aimed to create a community of faith, hope and love; a community in which all learn Christ. Of course its academic standards are the highest, for when we are set the task of learning Christ, our minds and hearts and souls are energised and motivated as by nothing else. But we learn not in rivalry but in fellowship.
In this vision, the good seminary is the product of its faculty; but the test of a good seminary is its graduates and the churches which will flourish and grow as the Word of God is preached. And the overwhelming evidence is that if you want good churches you need a good seminary. Thus his vision was not for Oak Hill, but for England and beyond. To see the inestimable benefit of hundreds of faithful churches, faithfully taught, faithfully listening, faithfully sharing the glad tidings that Christ is Lord. Oak Hill and all good seminaries need to attract hundreds of men and women who enter training not for a job, but for a mission to the world.
Mike saw the seminary as a pastoral community in which we encourage and rebuke, hear the glad tidings and are summoned to repentance. Then, it can be the seedbed of the preaching ministry for the churches. In our world, you cannot bypass such a seminary or substitute for it some quicker, cheaper option. Not if you want a ministry equipped for the challenges of today.
There is of course much else. But if our thanksgiving for him today does not include the resolve that excellent theological training will be available in this country, not least through Oak Hill, we will have met in vain. Here is his legacy: what will you do to sustain it?
The strong and certain note
For Mike – for me – I trust for you – this is what we say to the world: life is no charade and death is no oblivion. Rather, we know as of a surety that, as Mike lived for Christ, so, at the right time for him, he went Home. And so, through our tears, in our sorrow, we hear, for our comfort, the strong and certain note of the gospel of Christ, the risen Saviour. And we thank God for the witness of this great servant, we follow this witness by thanking him above all for the Lord Jesus Christ, by whom and for whom we live until we ourselves see him face to face.
Peter Jensen is the former Archbishop of Sydney and is the General Secretary of GAFCON.