Major developments at Keswick
Cumbria is an English county known worldwide, not least for having at its heart the beautiful Lake District National Park, nominated to become a World Heritage site.
Jonathan Lamb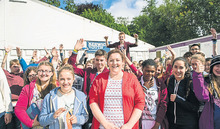 Then there's the Keswick Convention, a name which has also rippled around the world. And yet another famous export are Derwent Pencils.