Fact checking on Christian deaths
Global charity Open Doors, in February, disputed the way in which statistics on Christian 'martyrs' are collected, arguing that an annual figure of 90,000 is significantly higher than the accurately verifiable number.
World Watch Monitor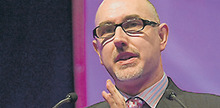 The figure, reported by some media and cited by an Italian academic on Vatican Radio, was published in research by the US-based Center for the Study of Global Christianity (CSGC) at Gordon-Conwell Seminary. Academics said they arrived at the figure by counting estimated killings of Christians between 2006 and 2015 and dividing the total by ten.