Mike Ovey
1958 –2017
It was a privilege and a pleasure to have known Mike as a brother in Christ and a dear friend. I cannot begin to tell you how much he will be missed by a generation of ordinands, students and ministerial colleagues. He was one of those few people it is difficult to imagine not being around, and whose wise counsel was such a blessing to many.
Wallace Benn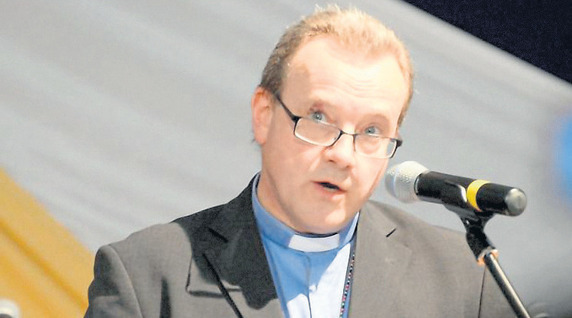 In many ways Mike was the foremost conservative evangelical theologian of his times. His training as a lawyer and his time working on parliamentary legislation left him with a healthy hostility to flabby thinking. Having a brilliant mind, he nonetheless had a warm pastoral heart which was influenced by his time in Crowborough as a curate. He began to shape his skills as a lecturer in systematic and biblical theology on the staff of Moore Theological College, Sydney. His return to join the staff at Oak Hill Theological College was warmly welcomed and he has shone there for ten years as the much loved and widely valued principal.
Rounded approach
Mike passionately believed in residential theological training. He strongly resisted its downgrading. But, while he wanted his students to be stretched academically and use their gifts to the full, he also saw the need for a rounded approach. Intellectual achievement without spiritual progress and growth in holiness would lead to 'sound but arrogant' ineffective ministers. It was head and heart together that interested him. Like others down the years, 'truth on fire' was what moved and motivated him. He liked to talk – using a medical analogy – of training to be a GP rather than a specialist (though those who could were encouraged to pursue their special interests). His vision, shared by others on the team, has arguably made Oak Hill the place of choice to train.
Biggest danger
An outstanding and passionate defender of Reformed evangelicalism, he saw the liberal theological mindset with its subsequent hanging loose to the clear teaching of Holy Scripture as the biggest danger to the modern Church. His critique of this at GAFCON II in Nairobi was the outstanding address of the whole conference.
While being a firmly convicted reform-ational Anglican, he saw the 'doctrines of grace' that we hold with brothers and sisters in the Free Churches as being of first importance. for our He was a contributer to Pierced Transgressions, the outstanding benchmark book defending the cross as penal substitution. His particular area of expertise was the doctrine of the Trinity, and especially of the filial submission of the Son to the Father. He was rightly convinced that equality in the Trinity showed how we should understand equality amongst us in our male/female relationships as 'equal but different'. Thankfully his work on this had been written up in his new book for Latimer Trust published last year: Your Will Be Done: Exploring Eternal Subordination, Divine Monarchy and Divine Humility.
He was an important member of the board of Churchman, the theological journal, and was about to answer an article sympathetic to 'open-theism'. Though a fearless champion for the truth, he was not narrow minded, but generous to credally and morally orthodox folk of different traditions. He reserved his annoyance for those evangelicals who had abandoned a high view of the cross and a totally trustworthy view of Scripture.
Kindness and care
Mike was charming with an impish sense of humour and, behind his outgoing personality, he was slightly shy with a sensitive nature. Many of his students talk not only about the quality of his teaching but the kindness and care he showed them. He was always kind and helpful. His early days as principal were not easy, but he won through and was hugely loved and appreciated.
It is sometimes not easy to understand God's ways, but he always knows best. A friend recently reminded me of C.H. Spurgeon's comment on the prayer of Jesus in John 17.24: 'Father, I desire that they also, whom you have given me, may be with me where I am, to see my glory.' He said that each time a treasured believer is called home it is in fulfilment of that prayer. For Mike it is 'better by far', but he will be sorely missed, especially by his wife Heather (who has been a wonderful support for Mike) and their three grown-up children. Pray for them especially, and for the whole Oak Hill College community, as they mourn and adjust to the loss of so special a loved one.