Abuse scandal covered up for years
In early February, abuse allegations from the 1970s came to light about a leader at the Iwerne camps, now run by The Titus Trust.
en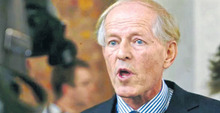 Children from certain public and independent schools were invited to attend Christian camps as they were seen to be the most likely people to take up positions of power within British society. But some were, it has been alleged, exposed to extreme beatings at the hand of a camp leader, John Smyth.
Interviews with those who suffered abuse from Smyth were included in two recent Channel 4 News programmes. Documents were shown that had been drawn up by the Church of England in the 1980s, when allegations had come to light detailing the beatings individuals had received at the home of Smyth. Some were so wounded they had had to wear a sort of nappy to stem the bleeding. The police were never shown the documents, and Smyth was never prosecuted.
The Titus Trust statement
In a statement on its website, The Titus Trust said: 'Channel 4 News and others have this week run stories about John Smyth QC, who was Chairman of the Iwerne Trust between 1974 and 1981. The allegations are very disturbing and our thoughts are with all those who have suffered, and their families.
'The Titus Trust was set up in 1997 and took over fundraising from the Iwerne Trust. In 2000 it took control of the running of the holidays from Scripture Union.
'It was only in 2014 that the board of The Titus Trust became aware of these allegations, after which the Trust provided full disclosure to the police, offering full co-operation with any inquiry that might arise as a result. The allegations were very grave and we believe that they should have been reported to the police when they first became known in 1981.
'The Trustees also reported these allegations to the Charity Commission in 2014 who confirmed that they had no regulatory concerns about the management of The Titus Trust. A further update was sent to the Commission this week. Our safeguarding policy is in line with latest best practice.'
Anne Atkins' allegations
In October 2012, in her Daily Mail column, Anne Atkins – regularly heard on Radio 4's Thought for the Day – wrote: 'We had a family friend who was an eminent lawyer, with considerable influence in a well-known public school. He used to invite boys to his house for Bible study. And then encourage them to confess their sins. If they admitted masturbation, for instance, he would strip and beat them, in a shed where no other adults were allowed. When word of this got out, the parents understandably wanted to protect their sons; the school wanted to protect its reputation. Instead of facing trial, he was allowed to leave the country quietly and continue the same practices abroad, where eventually he punished a boy so severely that he died. Again, I understand there was no trial.' The second Channel 4 programme detailed this as taking place in Zimbabwe.
In an article in The Telegraph on 3 February this year, Anne Atkins said that at the camps girl helpers were not allowed to take part in the activities with the boys and were mainly confined to the kitchen. She herself was 'sent home' from the camp after she had talked to some of the boys there.
In the same article, she also made allegations about 'completely different (also shocking) abuse' at a large evangelical church a number of years ago. She claims that she contacted the 'then archbishop' but was 'fobbed off by a member of his staff'.
Unreserved apology
Founded in 1932 by the Revd E.J.J. Nash, the Iwerne camps have seen many who were or became influential church leaders such as John Stott, David Sheppard, Michael Green, Dick Lucas and Justin Welby among those attending.
Justin Welby, now the Archbishop of Canterbury, issued an 'unreserved and unequivocal' apology on behalf of the Church of England and said he had 'never heard anything at all' about the allegations, despite being on the camps himself as a young leader. There is absolutely no reason to doubt the Archbishop's words, and en feels it was wrong for The Telegraph to link him specifically to the story in its front page headline.
en also believes it was perverse of the Bishop of Buckingham, Alan Wilson, to declare on Channel 4 that in the theology of Iwerne camps: 'God is seen as this punitive figure who is somehow out to 'get' people and I suppose it does blind people to what's going on in front of them sometimes, when there is that kind of violent basic theology.'
Do pray for The Titus Trust as they deal with the fallout from this situation.