Carey: Roman takeover?
Understandably, Luther and the great matters of the Reformation took pole position at the annual Carey Conference for pastors and wives and Christian workers this year.
JEB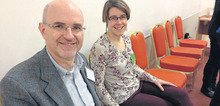 Held at the Hayes Swanick, 3-5 January, there was quite a raft of different speakers. Paul Gibson, pastor at Wheelock Heath, roared away from the start with an excellent biography of Martin Luther that focussed helpfully on the great Reformer's weaknesses. Anfechtungen became the buzz word! There were superb Bible readings from Rupert Bentley-Taylor on the power of the Word (Isaiah 55) and the power of the gospel (1 Corinthians 1) – very much Reformation concerns. John Benton spoke on lessons for leaders from the psychology of Samson. Linda Alcock did a brilliant job with the women's track, leading the sisters through Titus, and Ian Fry gave a sparkling and yet very disturbing talk on the needs of children and the work among young people in today's church.