Bang-on biography
Being involved with supporting the work of missionaries across the world, this book has made me very thankful for the ease of travel and communication that we enjoy today.
Julia Jones,

involved in support of missionaries with Grace Baptist Mission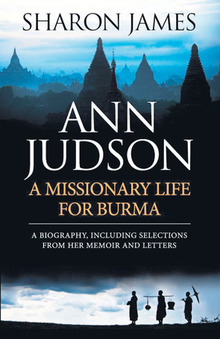 ANN JUDSON:
A Missionary Life for Burma
By Sharon James
EP. 286 pages. £8.99
ISBN 978 0 852 349 168
Even those who still have to use dial-up Internet, or Internet cafés at some distance, are in a much better position than the Judsons were in 1812. As the first Americans to leave as missionaries, travel took months and communication sometimes years.
Ann's testimony is clear; from living for pleasure, her life was turned around so that she found her joy in serving her Lord and making him known. Having met Adoniram and fallen in love with the man and his commitment to God, both she and her family accepted the probability that they would never see each other on earth again, as the young couple sailed off to pioneer a work in Burma. They suffered much in many ways, not least in Ann's ill health, compounded by the mercury and blood-letting treatments of the time. They also lost fellow workers to illness, faced much opposition and the work was slow. But God graciously blessed their labours and a small church was born. Then, during Adoniram's unjust and brutal imprisonment during wartime, Ann continued to do all she could both for his release and for the preservation of the work, including preserving the Scriptures that had been translated by then. What shouts clearly from these pages is Ann's love for her Lord, her burden for the lost and total acceptance of the sovereign will of God.
Sharon's book, recently reprinted, helpfully blends together extracts from letters that Ann wrote with her own narrative in a way that makes it hard to put down. The only way to sum up this book is to say, read it! You will be encouraged, motivated, humbled and amazed at the tenacity and commitment of this woman who willingly gave all for her Saviour.