Saving Martin Luther
Nearly 30 years ago an extremely learned theologian and scholar wrote this: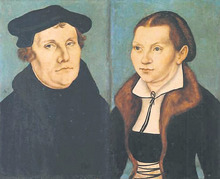 '[Martin] Luther, in the conflict between his search for salvation and the tradition of the Church, ultimately came to experience the Church, not as the guarantor, but as the adversary of salvation.' Those are the words of Joseph Ratzinger! At the time he wrote them, he was the Prefect of the Doctrine of the Faith for the Church of Rome and, of course, he later became Pope Benedict XVI.
How Ratzinger would reconcile his statement with that of the Council of Trent, which declared: 'If anyone says that the sinner is justified by faith alone' – which Luther did – 'let him be anathema' is an interesting problem. But his statement about the Church in the late Middle Ages is totally accurate. The late medieval Church had lost its way when it came to answering the vital question which a Roman jailor in Philippi once asked: 'What must I do to be saved?'
Medieval thinking about salvation
On the basis of such texts as 'Draw near to God and he will draw near to you' (James 4.8) and 'Return to me … and I will return to you' (Zechariah 1.3), a number of medieval theologians emphasised that a person who did his or her best on the basis of natural ability would be rewarded with grace by God. If that person then co-operated with this grace – which was given regularly through the sacraments of the Church – he or she would eventually win the reward of eternal life.
In this understanding of salvation, one could initiate one's own salvation and it was thus based on one's faith and good works. But, at the time of the Reformation, Martin Luther (1483–1546) dared to question this perspective, and ask afresh: 'What saves us – faith alone or faith and works? Grace alone, or grace and works?'
Salvation through faith and works?
Luther spent nearly ten years as a monk – from 1505 to 1514 or 1515 – trying to find peace with God. He tried all of the recommended approaches of his day: he fasted and prayed; he stayed up all night and even whipped himself; he confessed his sins for hours on end to a confessor – but all to no avail. As he once said: 'I was indeed a pious monk and kept the rules of my order so strictly that I can say: If ever a monk gained heaven through monkery, it should have been I. All my monastic brethren who knew me will testify to this. I would have martyred myself to death with fasting, praying, reading and other good works, had I remained a monk much longer.'
Luther sought in vain to find peace with God through such works: he was still troubled by an overpowering fear of God's judgment. Again, listen to his words: 'When I was a monk, I made a great effort to live according to the requirements of the monastic rule… Nevertheless, my conscience could never achieve certainty, but was always in doubt and said: "You have not done this correctly. You were not contrite enough. You omitted this in your confession." Therefore the longer I tried to heal my uncertain, weak, and troubled conscience with human traditions, the more uncertain, weak, and troubled I continually made it.'
In plainer language, Luther later stated of himself: 'If I could believe that God was not angry with me, I would stand on my head for joy.'
Christ, our righteousness
In God's providence, in the winter of 1514 –1515, Luther was led to Romans 1.16-17, where he came to realise that the righteousness of God is mentioned in this text, not as an attribute of God, but as that righteousness, namely the righteousness of Christ, which God imputes to the person who puts his or her trust in Christ – a righteousness that saves sinners. It is on the basis of this imputed righteousness that God declares such a person to be righteous. In other words, the decisive discovery of Luther and the Reformation was that Christ is our righteousness, and simple faith in him saves from the eternity of hell.
No wonder Luther said, after discovering this biblical truth: 'I felt that I was altogether born again and had entered paradise itself through open gates'.
Michael Haykin is Professor of Church History and Biblical Spirituality at Southern Baptist Theological Seminary, Louisville, Kentucky.