Nigeria: building a trauma care centre
A trauma care centre is being constructed in northern Nigeria to support Christians who have suffered religiously motivated violence or abuse at the hands of Boko Haram and Fulani herdsmen, it was announced in late November.
World Watch Monitor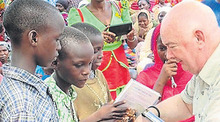 The centre is being built by Open Doors International, a charity which supports Christians under pressure for their faith. In April, the charity took a group of UK-based church leaders to visit the parents of the kidnapped Chibok schoolgirls and Christians in internally displaced people (IDP) camps – in Yola in the north-eastern state of Adamawa, and Jos in the central state of Plateau.