New formats for old cultures
Camilla Lloyd reflects on getting the Bible across in the world of the 21st century
Camilla Lloyd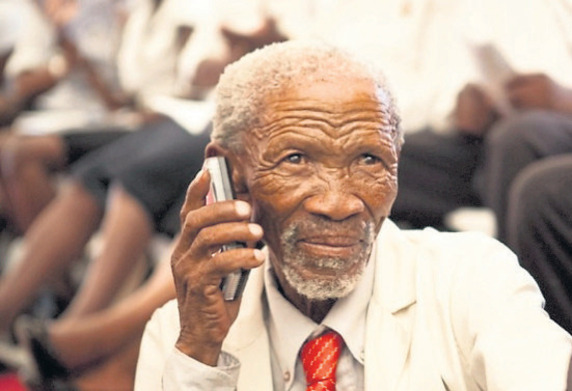 'We went to church for many years, but it wasn't until we saw the Jesus Film in our own language that we understood that Jesus died for our sins.
'We always thought he died because he did something wrong.'
These are the words of a Dukawa-speaking man in Nigeria. He, and many others like him, have come to know Jesus through one of the greatest evangelistic tools in the history of Christianity: the Jesus Film.
The Jesus Film, with its simple gospel message based on the story of Luke, has been dubbed into over 1,000 languages. Millions have seen the film and accepted Jesus into their heart. As it is translated into ever more languages, its impact continues to spread. It is said that every eight seconds someone gives their life to Christ after watching it.
Tailor the medium like never before
The Jesus Film is just one of many new tools that have accelerated the spread of God's Word. And not only is the Bible reaching more people, faster; technology is also creating new formats that are a better fit for many cultures than printed Bibles.
You might think technology and age-old traditions are in conflict. In fact, where Bible translation is concerned, they go hand in hand. Rather than replacing traditions such as storytelling, music and dancing or visual art, modern technologies support these valuable traditions and preserve them for future generations.
Historically, translating the Bible and making it available in printed form has been the goal – this is no longer the case everywhere. These days Wycliffe Bible Translators and our partners are involved using technology to produce Scripture in many different formats, and to help preserve local culture.
Audio Bible
The man in the picture speaks one very old language being supported by modern technology: the Naro language, a click language spoken in Botswana, Namibia and South Africa by 12,000 people. The Naro Bible was first produced in printed form, but very few Naro speakers could read it. On listening to an audio Bible like the one in the picture, another Naro speaker said: 'For the first time the Bible makes sense, and it feels as if God is talking to me.'
Many cultures around the world have primarily oral rather than literary traditions and are better suited to audio Bibles.
Other cultures may have a long history of communicating important things through visual art; they connect most strongly with a story told through culturally authentic artwork. Deaf language communities all over the world communicate using three-dimensional languages that can't be printed on paper, making video Bibles a good option for them. Speakers of all these languages are benefiting from the technology that makes audio Bibles, video Bibles and local versions of the Jesus Film not only possible, but relatively easy.
Recording before printing
Not only is it increasingly easy to dub the powerful Jesus Film into a local language, modern technology has now made recording Scripture a different ball game as well. More affordable, user-friendly technology means it has become easier than ever to create audio
Bibles, even for remote language communities. And, whereas audio Scriptures used to always be produced after a printed version, now teams may start by making recordings of Scripture for a people group before, or even instead of, the printed version.
Once the Bible is recorded in a local language, the gospel spreads and its impact is multiplied through inexpensive, solar-powered digital players built to last (the MegaVoice and the Proclaimer). Cheap smartphones are becoming remarkably widespread in most developing countries, and providing phone-friendly Scripture has proved an extremely effective strategy when it comes to spreading the gospel. Mobile-friendly Scripture can be easily shared from phone to phone in a village setting without the use of the Internet.
'Now the message is clear.'
A man called Toli cried tears of frustration when he was given a copy of the Bible in his own language – he wanted to engage with God's Word but he couldn't read. Later, he received a MegaVoice audio player which he spent hours and hours listening to. The result? Toli says: 'Now the message is clear.' The people group Toli belongs to – the Pinai-Hagahai of Papua New Guinea – have a history of being a lawless community who were especially hostile to outsiders. But the launch of the audio Bible in 2008 led to transformation and societal change. According to the Pinai-Hagahai, hearing the Bible in a language they fully understand changed their behaviour towards each other, brought community transformation and opened up new opportunities.
A softly-softly approach
One particular audience needed an outside-the-box idea when it came to engaging with Scripture. Children who are victims of abuse or trauma need the Word of God, but are unlikely to sit down with an audio player or book. Then someone had an inspired idea: what about a stuffed animal that could tell Bible stories? The result is Wildlife Story Tellers: soft toys with a MegaVoice audio player inside.
A disabled boy in Guatemala who received one of these soft toys beamed the moment he felt the tiger's soft fur. Then he pushed the little audio button, and the tiger began to tell him a Bible story – in his own language.
A girl in South Asia who was found badly beaten was taken to hospital by Christian aid workers, who gave her a bag of supplies, including a teddy bear who was ready to snuggle and tell Bible stories in her language. Day and night, this little girl held her bear and listened to the stories about Jesus, and by the time she was ready to leave, everyone on the ward knew the stories.
The how and why of translation
The reason we translate the Bible hasn't changed. Wycliffe's passion is and always has been to enable people groups across the world to engage with the Word of God in their mother tongue. But as we have seen, technology has changed our methods of distribution and engagement, as well as Bible translation itself.
Things have come a long way since the days when several drafts of a translation were made and each translation was typed four or five times before being sent to the typesetter, who would type it again before printing. With a computer, Bible translations now only need to be typed once and corrections, changes or additions are made in the original document. Specially-designed Bible translation software has also had a huge impact.
The spread of high-speed Internet across the globe has been a game changer in the world of Bible translation. Where translation teams and consultants are based in different countries, programs such as Skype and Google Hangout enable real-time audio/video communication across oceans. Programs like Bomgar enable screen-sharing across the same distances, saving money and time and increasing flexibility.
In short, whatever the method, Wycliffe Bible Translators is excited to be part of bringing the Word of God to hands and hearts across the world. Whenever we hear testimonies from all over the world about Scripture changing people's lives, we are encouraged to keep at the task until everyone is able to read the Bible in their own language.
'When we read God's Word [in Portuguese, Brazil's national language], it was like a piece of blank paper. We got nothing from it. But now when we read the Scripture in Kaiwá, [the language of the Kaiwá people] it is like a crystal clear stream. We can see to the very depths of it.'
Camilla has lived in Australia, Norway, Tanzania and the UK. She worked as a field linguist in Tanzania, and now writes for Wycliffe Bible Translators' blog. Read more about Wycliffe's work at wycliffe.org.uk or by following Wycliffe on Twitter (@wycliffeuk) or Facebook (WycliffeBibleTranslatorsUK).