Trumped
I am a 'legal alien', I carry a Green Card and all our children have been born here, but I cannot vote in America.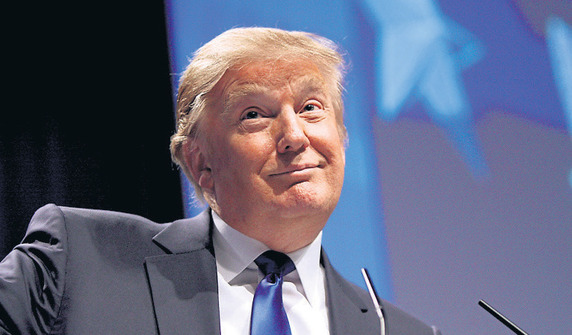 With that in mind and also being a pastor, it is inimical, unwise, and probably unedifying for me to talk about party politics.
Political affiliation?
I have never told anyone who I voted for – when I could vote – and I vouchsafe the old Martin Lloyd-Jones principle that a Christian should advocate for their viewpoints in democracy, but not align the Christian faith solely with a particular party political machine. I also think that the 'spirituality of the church' (to use a phrase that a Presbyterian pastor reliably informed me is one that is employed within those circles to indicate the particular mission and focus of the gathered church) means that the local church should focus on what it is called to do: preach the gospel, disciple, evangelise.
You may be disappointed!
So those who turn to this 'Letter from America' column with its headline for this month, 'Trumped', looking for a particular party political commentary, will be disappointed, I'm afraid. Rightly or wrongly, bar Nazi-level demonic dictatorship, or specific barring of the ability of the church to worship or evangelise, my role is to feed the sheep, preach the Word, and so equip God's people to do their work – in business, politics and home life.
What the Bible says
That said, I do think it is important to teach the Bible in the full counsel of God. Romans 13 famously tells Christians to submit to the authorities, and this was written at a time when Nero was probably emperor (albeit perhaps in his earlier 'good period'). When, if ever, are Christians not to 'submit to authorities'? To my mind, Acts 5 comes into play, when the apostles refuse to be silent about Christ and him crucified, because they must obey God rather than men. And, likewise, the narrative structure of the Exodus, with God releasing his people from evil authority. Are we in an Acts 5 situation or a Romans 13 situation? If it is Romans 13, then we work within the mercifully democratic structures, the democracies that are before us to influence for good and for Christ. At the same time praying, as Paul urges Timothy to encourage the church to pray in 1 Timothy 2: 'First of all, then, I urge that supplications, prayers, intercessions, and thanksgivings be made for all people, for kings and all who are in high positions, that we may lead a peaceful and quiet life, godly and dignified in every way. This is good, and it is pleasing in the sight of God our Saviour, who desires all people to be saved and to come to the knowledge of the truth.'
This means that our prayer is to be that those in power govern in such a way that there is peace, that we might live godly and dignified lives, in order that there be stability for the gospel to flourish.
In these tumultuous times in the West, with swathes of populism of various kinds upon us, it is particularly important that those Christians with influence advocate for an order of things that has the most likelihood of continuing to generate a situation and a context where we can have peaceful, dignified and godly lives, and that the gospel may flourish. And that all of us continue to pray to the same end.
Josh Moody is the senior pastor of College Church, Wheaton, Illinois.