Tilehurst launch
ChristChurch Tilehurst launched on 4 September, having first been established as a congregation from Carey Baptist Church in Reading.
Dan Dwelly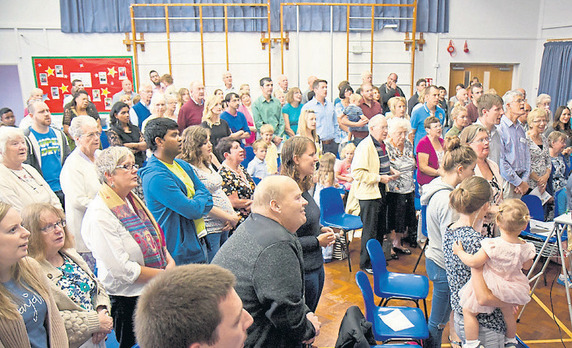 Originally operating as a satellite congregation called Carey Westwood Farm, the work grew from about 30 people, including children, to about 60. In 2015, with the blessing of Carey, they began the process of establishing the new church.
Bringing lost sheep
The launch service was a very special occasion, with almost 150 people present. Dan Dwelly, who was serving as assistant pastor of Carey Baptist Church and will continue as the first pastor of ChristChurch Tilehurst, led the service and preached. He spoke from John 10 on Jesus as a good shepherd whom we are seeking to follow because he alone gives us life. Like Jesus, our mission is to bring lost sheep to him so that they might receive life also.
The church meets in a school hall for services every Sunday morning and conducts various other events and meetings, including holiday Bible clubs and participation in community fetes.
Pastor Dan Dwelly said: 'Not having our own building obviously presents certain challenges, but it reminds us that the church is a people, not a building. This shifts our focus away from events, important as they are, to building genuine relationships with each other and those in our communities in which we can live and share Christ.'
Praying for 20 people
The church is seeking to cultivate a big heart for outreach with the aim to see many come to faith. Dan commented: 'We are praying that 20 people would find Jesus by the end of 2020. That sounds like an unrealistic expectation, but we are trusting in a great God. Already, this '20/20' vision has helped us focus on intentionally reaching individual people we know rather than having some vague hope that God would save someone.'
'I am so thankful to pastor a church of loving and committed people. We have grown in our unity and sense of family and offer a warm welcome to all. I can't wait to see where God will take us next.'