Bristol: grace for the people
A group of 120 church leaders assembled on Thursday 22 September at Headley Park Church, Bristol for the 'Entrusted with the Gospel' day conference organised by Sovereign Grace Churches: UK & Ireland.
Phil Raine, Simon Dowland and Jessica Foster, Headley Park Church, Bristol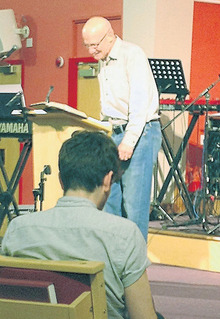 Their US leaders Bob Kauflin and C.J. Mahaney were in attendance. The group is well known for their preaching and wonderful music, both in serving the church with new songs and writing new music to ensure great hymns of the past are not lost, but from this conference they should be acclaimed as great encouragers of pastors in their work.
'Unoriginality'
Through the inspirational, gospel-focussed preaching of C.J. Mahaney, and the warm, biblically saturated teaching of Jeff Purswell, we felt mightily helped and encouraged to carry on in the work the Lord has called us to do.
One striking feature was their call to 'unoriginality', a desire shaped from 2 Timothy 4.1-5 to remain faithful to the unchanging gospel of our Lord Jesus Christ. Of particular help was C.J.'s message entitled 'When a pastor loses heart', which should be required listening for anyone involved in pastoral ministry.
True Worshippers
On Friday it was the turn of the True Worshippers Conference, again organised by Sovereign Grace. In the afternoon, Bob Kauflin led a very helpful and practical session on 'Pastoring through song' for musicians and worship leaders.
He talked through how churches who are understandably wary of the trend of rock concert mentality infiltrating our sung worship, can – rather than relegating it to a quick warm up before the main event of the sermon – recognise that wisely and faithfully-led congregational singing can be a means of grace for the people in our churches. Songs filled with biblical truth and appropriate responses to God can feed our flocks, protect their hearts, and enable them to apply the gospel to their lives.
Doctrine of adoption
To close the conference on Friday evening, C.J. preached vigorously on the doctrine of adoption from Galatians 4, thrilling our hearts with the glory of this truth. This was a change from the advertised message from Psalm 88. One unforgettable and priceless nugget from the sermon was: 'It is a good thing to be right with God the Judge; it is a better thing to be loved by God the Father'.
It was almost worth joining Twitter just to be able to share that delight of the glorious gospel with which we have been entrusted.