Sweet singer of Israel
Marylynn Rouse fills in the background for some of John Newton's wonderful hymns
Marylynn Rouse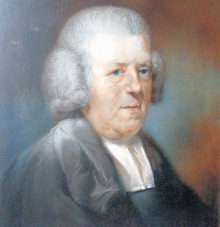 'My friend Mr Newton is one of the sweet singers of Israel.'
The Revd Abraham Maddock of Kettering, grateful for John Newton's help in a time of fierce opposition, wrote this in his diary on 22 May 1770. Newton's love for hymns was instilled by his mother. While still a toddler he knew off by heart all of the children's hymns of Isaac Watts, a close friend of his mother's pastor.
The business of heaven
However, it would be almost three decades before he would be enthralled by 'the beauty of singing' as he attended a communion service led by George Whitefield. 'Never before had I such an idea and foretaste of the business of heaven… He made many little intervals for singing hymns – I believe near 20 times in all.'
From then on (1755), Newton's diary is full of references to singing hymns – when walking, waking, visiting friends, worshipping with Moravians ('the hymns excellent, and the singing and music vastly solemn and agreeable'), providing hospitality at home or riding with his wife as they 'sang many hymns upon the road'.
Liverpool
Newton started writing his own hymns while working in Liverpool. One of his earliest, as he described to a friend at the time, was 'made to suit a favourite tune of Mrs Newton's – in Arne's Opera of Eliza. The first words of the song are, My fond Shepherds.' The aria proclaims the mournful tale of merry nymphs who sink into despair and despondency when war is declared and their 'fond shepherds' are whisked away to fight. Newton compares the nymphs to himself, for, while all is well:
When my Shepherd my Saviour is near,
How quickly my sorrows depart!
New beauties around me appear,
New spirits enliven my heart.
But when his Shepherd seems to disappear:
But alas! what a change do I find
When my Shepherd withdraws from my sight!
My fears all return to my mind
And my day is soon changed into night.
However (unlike the nymphs), his sorry tale does not end there. First there are lessons to be learned:
By these changes I often pass through
I am taught my own weakness to know;
I am taught what my Shepherd can do,
And what thanks to his mercy I owe.

And then there's future joy to anticipate:
For ere long he will bid me remove
From this region of sorrow & pain
To abide in his presence above
And then I no more shall complain.
Diary backgrounds
Newton's diary sometimes gives us fascinating glimpses into the background of his hymns. When his elderly father-in-law became seriously ill, Newton invited him into their home to love and care for him in his last days. On Saturday 2 August 1777 Newton recorded: 'This morning at five Mr Catlett received his dismission from this state of sin and sorrow, and I trust, my Lord, he is now with thee. The news breaking upon my Dear when she awoke… had a painful effect.'
He began Sunday 'with a heavy heart, for my Dear, whose head was quite ill yesterday, had almost a sleepless night. Thou only knowest how I feel for her.' The hymn he had written during that traumatic week, and perhaps even just the night before, was surely for her comfort. It was based on 1 Samuel 1:18 and entitled 'Hannah, or the Throne of Grace'. It begins:
When Hannah, pressed with grief,
Poured forth her soul in prayer;
She quickly found relief,
And left her burden there:
Like her, in every trying case,
Let us approach the throne of grace.
The most popular of Newton's hymns during his day was How sweet the name of Jesus sounds, based on Song of Solomon 1.3: 'Thy name is as ointment poured forth.' He preached from this text in Olney on Sunday morning 3 March 1765, beginning: 'A chief part of this little book is an attempt to answer that question "What is thy beloved more than another beloved?" One of the greatest quarrels the world has with the people of God is for their having such high thoughts and so much to say about the Lord Jesus Christ.
'They are ready to say "Can you not be content with fearing God and keeping his commandments, without so much talk of Christ?" This makes the believer sigh "Alas that you did but know him too. If you did, surely you would think you could not speak enough of him." '
Sense of joy
First, 'The name of Christ includes the whole revelation concerning him, who he is, what he has done – all that we read of his love, his power and his offices make a part of his great and glorious name. The soul that is taught by the Word and Spirit of God to understand a little of these things receives such a sense of love and joy that the very sound of his name is sweeter than music to the ears, sweeter than honey to the taste.' Jesus is a Saviour, a Mediator, a Husband. 'Our wants, debts and fears are many. But … he is rich enough to supply all.'
There were different types of ointment: 'Some were healing – applied to wounds and bruises and putrefying sores. Now the sinner when he is awakened and comes to himself, finds himself like the man stripped and wounded and half dead (Luke 10). Jesus, like the good Samaritan, comes with an eye of pity, to pour in the ointment of his name. This is a certain and the only cure for the wounds of sin.'
Ointment from every wound
Drawing a comparison with the woman with the alabaster jar, he explained how the grace and virtue of this name was known to only a few 'while our Lord conversed upon earth', but afterwards it was poured forth: 'When he suffered – the precious vessel that contained this precious ointment was broken upon the Cross – the savour of his name, his love, his blood, poured out from every wound [in] his sacred body. When we desire a new savour of this ointment, let us turn our eyes, our thoughts to Golgotha.'
Times of refreshment, when the Lord pours the grace of his name into our hearts, include at our conversion, and 'Often in an hour of distress and trouble. They may expect it likewise at the hour of death'.
The accompanying hymn was surely:
How sweet the name of Jesus sounds
In a believer's ear.
It soothes his sorrows, heals his wounds
And drives away his fear.
It makes the wounded spirit whole
And calms the troubled breast;
'Tis manna to the hungry soul
And to the weary rest.
Dear name! the rock on which I build,
My shield and hiding place;
My never-failing treasury filled
With boundless stores of grace.
By Thee my prayers acceptance gain
Altho' with sin defiled;
Satan accuses me in vain
And I am owned a child.
Jesus! my Shepherd, Husband, Friend,
My Prophet, Priest and King;
My Lord, my Life, my Way, my End,
Accept the praise I bring.
Weak is the effort of my heart
And cold my warmest thought;
But when I see Thee as Thou art
I'll praise Thee as I ought.
'Til then I would Thy love proclaim
With every fleeting breath;
And may the music of Thy name
Refresh my soul in death.
The late Dr Alec Motyer, who at the age of 91 spent his last morning at home delighting in reading 2 Samuel in Hebrew, chose 'How sweet the name of Jesus sounds' as one of the hymns for his funeral service. It was profoundly moving to stand a few feet from his coffin as the congregation sang:
And may the music of Thy name
Refresh my soul in death.
Alec wrote persuasively of the writings of John Newton: 'At a time when so many evangelicals seem to be struggling with their identity, and when evangelicalism is stressed by so many different cross-currents, could anything be more beneficial than a strong injection of that integration of sound biblical doctrine and genuine biblical spirituality so signally taught by John Newton?'
Marylynn Rouse, Director of The John Newton Project, www.johnnewton.org, based in Kettering. The John Newton Project is building up a free resource of previously unpublished material by Newton at www.johnnewton.org. We encourage you to explore this website for more of Newton's hymns, letters, sermons, diaries, journals and articles – all full of rich biblical insight, humble testimony and godly counsel.