Iran: sing to the Lord
Little Musician, a new Farsi-language programme for children aged 4 –12, was recorded in late September and early October this year, to teach children Christian music and worship using stories from the Bible.
SAT-7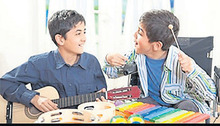 The programme's presenter begins each episode by sharing a Bible story. She then teaches the children a relevant song, inviting the young viewers to play along at home with their own instruments.