Iran: picnic arrests
Five Iranian Christians were arrested by Intelligence Ministry (VEVAK) agents on 26 August at a picnic 90 miles east of Tehran.
Christian Solidarity Worldwide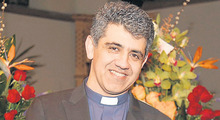 Amin Afshar Naderi, Hadi Asgari, Amir Saman Dashti, Mohammad Dehnavi and Ramil Bet-Tamraz were arrested while picnicking with their wives in a private garden in Firouzkooh. In a comment to the International Campaign for Human Rights in Iran, Mansour Borji, spokesperson for the Council of United Iranian Churches (HAM- GAAM), said that VEVAK agents also confiscated three Bibles and assaulted Amin Afshar Naderi after he asked whether they had a warrant to enter the private garden. He emphasised that 'the arrested individuals were not conducting a religious meeting and had gathered only for a good time'.