Alec Motyer 1924 – 2016
Steve Motyer remembers the life and ministry of his father
Steve Motyer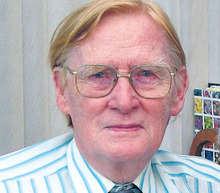 Alec Motyer was born in Dublin in August 1924.
His Protestant family had moved to Dublin a few years previously from rural Mullingar. All his life – though he ministered in the UK from 1947 – he kept a very strong sense of his Irish roots and the Mullingar connection.
This had been his mother's home, and Alec's earliest years were spent with his maternal grandmother, Catherine Nelson, who had moved from Mullingar with the family. She had a remarkable knowledge of the Bible, and passed a deep love of Scripture on to Alec, so much so that he felt called to the ministry long before he actually opened his heart personally to Christ, at the age of 15, through the ministry of a Brethren missionary called Harold Wildish.
Solo to duet
Alec was academically very able. He won scholarships both to Dublin High School and later to Trinity College Dublin, where he first studied Classics and Philosophy and then Theology to train for the Church of Ireland ministry. He gained the highest marks ever achieved in the 'Divinity Testimonium' – in spite of the fact that he also spent a lot of time playing tennis and cycling round Dublin with Beryl, whom he met when she sang the solo at a Christian Endeavour meeting at which he was the speaker.
The solo turned into a duet in 1948 when they were married. By this time Alec had already spent a year as a curate at St Philip's Penn Fields in Wolverhampton. He persuaded the Church of England authorities to let him cross the Irish Sea because he was convinced that God was calling him to work in Penn Fields with Hugh Jordan, the then vicar of St Philip's.
Bristol and Isaiah
Stephen was born in 1950, just as the young couple moved to Bristol, where Alec took up his first teaching post at Clifton Theological College, training ordinands for Anglican ministry. At the same time he was working as a curate at Holy Trinity Easton. Steve remembers going on pastoral visits with him, sitting in a little seat on the back of his bike. Mark was born in 1952 – on Steve's birthday.
In 1954 Alec became Vice-Principal of the College and worked very hard for the next 11 years, seeking to build the College up. Students loved his masterful Old Testament and Hebrew classes, laced with humour as they were. In addition he frequently spoke at university Christian Unions and at churches. During this time he published his first few articles and books, both academic and pastoral.
He began to develop his particular interest in the book of Isaiah and was commissioned by G.T. Manley to contribute the Tyndale Old Testament commentary on it (finally published in 1999!). He also started to preach at conventions, especially Keswick and the Southern Counties Convention in Weston-super-Mare, of which he eventually became Chairman. His reputation began to spread and in 1964 he undertook his first foreign trip, to speak at the 'Keswick' Convention in Jamaica.
College calamity
In 1965 disaster struck at Clifton Theological College with a complete breakdown of relations between the College authorities and the staff. This led to three staff members, including Alec, being sacked and two others resigning in protest. After a period of great uncertainty the family moved to Hampstead, where Alec became the vicar of St Luke's, Kidderpore Avenue, in December 1965. These were very happy years which saw much growth in the church – and the family, with the birth of Kate in 1968.
He loved having a regular pulpit ministry in Hampstead and relished the life of a pastor. More than just writing went on in his study, which was equipped with easy chairs and a fireplace. One evening he appeared out of his study with a broad grin on his face, leaving the troubled young couple who had come to see him. 'What are they doing in there?' I asked. 'I hope they're having a really good snog!' he replied.
But his desk was much-used too. During this time Alec became the Old Testament editor of the IVP New Bible Commentary Revised and his expositions of Philippians and James were published.
Trinity Principal
He still felt a profound call to theological education as well, and in 1970 J.I. Packer persuaded him to return to Bristol as Vice-Principal of Tyndale Hall, one of the other Anglican Colleges there. However, just at this time the 'Runcie Report' on theological education in the Church of England recommended the closure of all the Bristol Colleges, including Tyndale. After much disagreement and difficult negotiation this recommendation was withdrawn, and to his own amazement Alec emerged as the first Principal of a new Bristol College, Trinity College, born out of the merger of the three existing Colleges (Clifton, Tyndale and Dalton House, which trained women).
Under his generous leadership the merger went well and Trinity grew by leaps and bounds. But Alec's passion was always for preaching and pastoring, and in 1981 he moved to become the vicar of Christ Church Westbourne in Bournemouth.
Here too the church grew under his gentle and encouraging ministry, always focussed simply on 'preaching the Word of God'. One particular feature was his Wednesday morning Bible expositions, which drew people from churches of all sorts across Bournemouth. Retiring in 1989, he and Beryl moved to live in their holiday home in Bishopsteignton, Devon.
Writing in retirement
Symbolically, the church gave him an Apple Mac computer on retirement – an old MacPlus which he described as 'a small TV and half a typewriter'. So – in between many preaching engagements, both locally and further afield – Alec now concentrated on writing: first of all, his major work on Isaiah, which had now grown far beyond the constraints of the Tyndale series. This detailed, patient and captivating explanation of Isaiah was published in 1993. Many other books followed: he published 15 in all, during the course of his long retirement, as well as editing the Old Testament volumes of the IVP Bible Speaks Today series. His little book on preaching (Christian Focus, 2013), distilling the wisdom from decades of practice, was very warmly received.
Many friends came to visit and to stay with Alec and Beryl in Bishopsteignton and their home was a focus of laughter, hospitality and pastoral care. After 15 years there they moved, in 2004, to live near Kate and her family in Poynton, and Alec's last years were spent very happily in the fellowship of St George's Church, where he frequently preached. He gave the Bible readings at the Keswick Convention for the last time in 2007. He cared for Beryl beautifully, with Kate's support, before her death in 2010.
He was diagnosed with age-related diabetes in 2013, and Kate and Alan generously sold their home and moved to care for him. He became increasingly frail, but was always uncomplaining and ready to welcome the many friends who sat with him or took him out for lunch or tea and cake. The passion of his life – love for Scripture, and for the Lord – remained undimmed, as did his memory for people and times past. In his last month, unable to cope with any larger book, his reading was simply 2 Samuel – in Hebrew.
We rejoice in his fruitful life well lived, but even more that the veil has now been lifted and he lives unrestrained in the presence of his Lord and Saviour Jesus Christ.