Bangladesh: coming to Christ despite trouble
Muslims are increasingly converting to Christianity in the Muslim-dominated country of Bangladesh, despite persecution, a report in July revealed.
Christian Post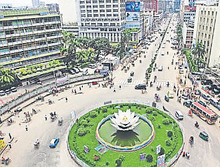 Muslims make up nearly 90% of Bangladesh's population. But human rights organisation Christian Freedom International estimates that as many as 91,000 Muslims have converted to Christianity in the country over the last six years.