Revival Conference
2-9 July saw the 17th annual Revival Conference at Bryntirion, Bridgend. The main speakers were Geoff Thomas (pictured) and Phil Hill, who shared the six well-attended evening preaching meetings.
Kerry & Rose Orchard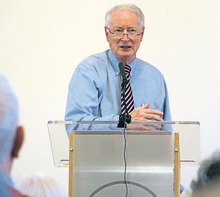 The latter dealt with the suddenness and unexpected nature of revival as illustrated from Jonah, how God can bless a mere remnant (Ezra) and importunate praying (Genesis 32.26).