Sudan: facing charges
The Revd Kwa Shamal, of the Sudan Church of Christ, was re-arrested by the police on 24 May.
Christian Solidarity Worldwide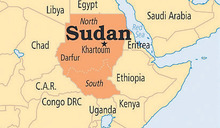 Mr Shamal had been reporting daily to the National Intelligence and Security Service (NISS) offices as a condition of his release, following his initial arrest in December 2015 during a crackdown by the authorities on Christians in the country. His reporting conditions had been removed on 16 January, but were reinstated in February, when he was also required to hand over his passport, laptop computer and other personal items. On 24 May he reported to NISS as usual, but was unexpectedly arrested by the police and his case is now with the prosecutor.