Anglican Update Online and on fire
I have just participated in a Bible study led by the Archbishop of Canterbury, Justin Welby.
David Baker,

rector of the churches of East Dean with Friston and Jevington, East Sussex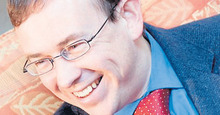 Well, I say 'participated'. What I mean in fact is that I have watched a recording of a 20-minute study he conducted live online a little while ago. If I am honest, I did so in order to write about it now.