Hope in Heatherlands
The Heatherlands Centre in Ferndown, near Bournemouth, was packed on 30 April to see Giles Woodcraft inducted to the pastorate at Hope Church.
Mike Mellor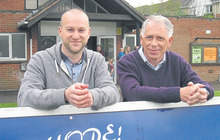 As Pastor for Evangelism, he will work as co-pastor alongside Stuart Fisher the Pastor for Teaching. There was a real sense of joy and expectancy as the church – originally a church plant from Moordown Baptist Church and now an independent FIEC church – enters this new phase.