A weekend for Muslims
Over 70 people gathered at The Hayes Conference Centre in Derbyshire for a weekend of prayer for Muslims, 10-12 June.
Paul Barnes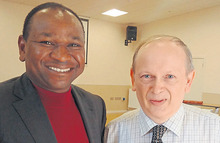 Longstanding members of the Fellowship of Faith for the Muslims (FFM) mingled with representatives of various mission organisations – some of whom were serving missionaries visiting the UK: a couple from South India serving with Tribals Transformation India; an Indian Manipuri family with three children serving with SIM in Bangladesh; and a couple from Basel serving in France. There were several believers who had turned to Christ from a Muslim background, including an Iranian family who were present with their two children, having fled persecution in Iran.