CELEBRATING THE UNBELIEVABLE
A second-hand television in a night watchman's family shelter on a Cairo building site.
Lindsay Shaw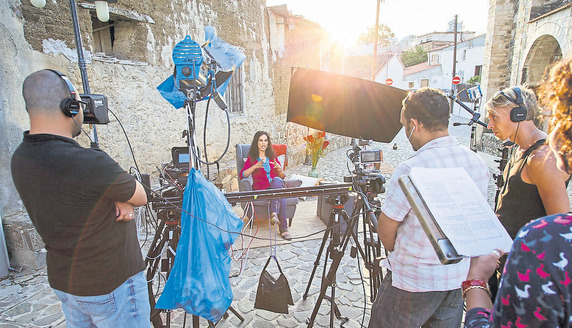 Who would have thought it could spark the vision for a Christian broadcast ministry that, 20 years later, would stretch right across the Middle East? But it was that sight, next to the apartment block where media missionary Terence Ascott was living, that led to the launch of SAT-7, a satellite TV network watched today by 15 million viewers from Casablanca to Kabul.
On 31 May SAT-7 celebrated 20 years of broadcasting, having grown from two hours a week recorded in a rented Beirut studio, to five Middle East channels broadcasting 24/7 in Arabic, Farsi (Persian) and Turkish. The success of this pioneering Christian media presence in predominantly Muslim nations is remarkable. In a region where the actual numbers of Christians has dramatically declined recently, SAT-7 has helped to make the lives and witness of Christians more widely visible than ever before.
Mish Ma'oul!
The historic nature of SAT-7's first broadcast was not lost on one Christian viewer in Egypt. He was so shocked that he had to call the station. Seeing an Arab female presenter wearing a cross, a representative of the Arab Christian minority who were almost invisible on screen, he called to say, 'Mish Ma'oul ! This is unbelievable!'
This reaction was no surprise to SAT-7 International Chief Executive, Dr Terence Ascott. 'Impossible' was the standard response he received from church leaders when he first shared the vision for a Christian TV station in the early 1990s. Arab Christians would not risk showing their face on camera; it would be impossible to fund the station; governments wouldn't permit it.
Ascott was working for Middle East Media in Egypt where he had developed a mass circulation youth magazine distributed in 11 countries. Seeing it hit the newsstands and make Christian content available to Arab youth was thrilling. But how to reach the millions who cannot read (26% in Egypt)? How to give access to the gospel to women confined to the home or to the citizens of countries with only a scattering of hidden believers?
Entertainment on a low income
Spotting that second-hand TV, the main form of entertainment for many low-income Egyptian families, gave him the answer. And when, in the early 1990s, television arrived via satellite in the region – free of state control or censorship – a new world suddenly opened up.
Development work and initial funding to realise the vision for a Christian channel came from Middle East Media. To start with, the work depended heavily on a small number of donors. Donations – from individuals, trusts, churches and organisations – remain the main source of funding, as the network does not accept any paid programming. This allows SAT-7 to maintain complete editorial control and guarantee that anything broadcast is both appropriate and culturally sensitive for its viewers.
Different languages
The embryonic channel began in a small but significant way. Rita Elmounayer – now head of SAT-7's Arabic channels – presented its first broadcast and remembers it as an exciting moment. The first 15 minutes were a children's show, in which Rita simply told the creation story, aided by an apple.
Since then, SAT-7 has grown enormously, firstly by dividing into two Arabic language channels – SAT-7 ARABIC and SAT-7 KIDS (the first child-only Arabic TV channel). These were joined in 2006, by SAT-7 PARS, serving Iran. Turkish channel, TURK-7, began regular broadcasts on SAT-7 the same year before merging with SAT-7 as SAT-7 TURK in 2010. Meanwhile, SAT-7 PLUS, beamed from a different satellite, reaches North African audiences with a mix of adult and children's Arabic programmes.
Today, SAT-7 has studios staffed by national believers in Cairo, Beirut, Istanbul and by Iranian background believers in Cyprus and London. It is this that allows programme makers to remain in touch with the everyday needs of their audiences and respect cultural sensitivities.
From the outset, the goal has been to act as a platform for the churches in the Middle East and North Africa (MENA) and present a united witness in a divided region. While other Christian channels are now broadcasting to the region, Terence Ascott says SAT-7 has a unique role: 'We offer a very holistic message and provide a range of programmes you won't find on any other channel.'
Programmes range from worship and Bible teaching to live magazine and talk shows for women, children and young adults, and from quiz shows, drama and current affairs, to music and cultural programmes.
Bible teaching and challenges
'We also play a unique role in bringing systematic Bible teaching', Dr Ascott says. Programmes linked to theological curricula in the Arab world and the growing Pars Theological Centre equip leaders in Arab countries and in Iran's underground churches.
Not surprisingly, SAT-7 has faced challenges over the years. Although relationships with the authorities in Egypt have been good, in October 2015 officials from the censorship department arrived unexpectedly at SAT-7's Cairo studio. They confiscated editing servers, cameras and other equipment, and charged studio director Farid Samir with various alleged licence offences. The equipment was returned three months later and all charges dropped against Mr Samir.
Despite the impact this had upon the studio output and the stress caused to Samir and the Cairo team, he said: 'God has used the whole episode for good. We now have a paper from the court saying there is no problem with the censorship body. It's a kind of licence that we could not have asked for!'
And Samir is keen to keep the last few months in perspective. 'The whole Middle East is suffering from turmoil, terrorism and war, and Christians especially are being driven out of the region, in Iraq, Syria and Palestine. The situation in Egypt is different because of the political stability the country is moving towards, and because of the strong Coptic Church that has suffered persecution throughout its history but survived. Christians here witness by their lives. For example after Muslim Brotherhood supporters burnt more than 80 churches, some congregations even put banners outside their buildings with the words "We forgive"!'