Where are we now?
Mark Sayers's new book is important. It's not an easy read. For those used to books padded out with stories about things that happened to the authors, this is remarkably dense.
Adrian Reynolds,

Director of Ministry, The Proclamation Trust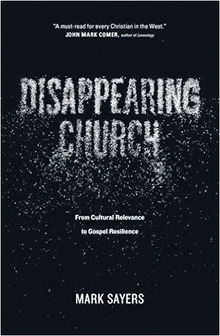 DISAPPEARING CHURCH
By Mark Sayers
Moody Publishers. 176 pages. £10.99
ISBN 978 0 802 413 352
It's just 176 pages, but that's equivalent to 400 pages for many modern writers. However, the premise of the book – an assessment of where the church is (and why) and where we go now – is essential.
No surprise
In one sense, as conservatives, I don't think his conclusions will surprise. At least, they ought not to.
Nevertheless, the book is important because he assesses our Western culture well and shows how our conservative principles are just what are needed. Along the way he destroys a few shibboleths, notably the insatiable desire for churches to be culturally relevant.
Flawed evangelism
He shows clearly how the church's desire to evangelise the Western (or third) culture in the same way that we evangelise the pagan culture (the first culture) is flawed and ultimately leads to assimilation.
This methodology was imbibed by the church in the 1980s and 1990s through those who had worked on the mission field. However, the third culture is not pagan. Rather it is, he argues, an anti-culture – representing everything that our Judeo-Christian heritage is not.
Withdraw-return
What, then, is his answer? It is what he calls 'withdraw–return'. Sayers calls for more depth in our Christianity, like a tree that springs up in a gap in the rain forest. Initially, it is the vines and broad leaf plants that occupy such a gap, but eventually the tree breaks through because it has first sent down deep roots. Shallow church, says Sayers, will look good, but do little. It may try to impact in the public sphere but it is doing little in the private sphere, where things really count.
Amen to that. And amen to his argument for institutions! Such an argument is nuanced of course (he is against institution-alisation), but he is pleased to stand up for the church as it ought to be, with deep disciple-making at its heart.
Deep and compelling
I really appreciated this book. It is thoughtful. It is written by an Australian which means it resonates more with European culture/setting than many US-authored books. It is also deep. Although he makes some of his points scripturally, his argument is more philosophical, but no less compelling for that. Of course, as with any book, it requires a discerning mind. But there is much here to challenge, convict and encourage.