To Christ through CE / PFI
Ibrahim wears deep lines on his forehead, and bears a scar across his left cheek.
Iain Taylor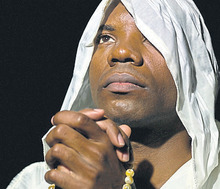 At first glance, he looks tough, capable, self-assured. His hard stare seems to convey a warning. But when he smiles, his face tells a different story – one of hope, of quiet change, and new beginnings. It's a story of spiritual transformation, which is capturing the hearts of thousands of prisoners worldwide, through Prison Fellowship International and the Christianity Explored course.