Iran: lives given to Christ
During the recent Persian New Year (Norouz) outreach in a country near Iran, an Iranian family was given New Testaments by a team of street evangelists.
Elam Ministries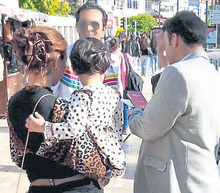 The family excitedly declared that they had been searching for the Scriptures inside Iran for a long time without success. And following a deep conversation, the whole family gave their lives to Christ right there on the street. They have returned home to Iran, taking the gospel with them.