Anglican Update We 'snarky' evangelicals
I write this as a penitent (sometimes) but far-from-wholly-transformed sinner. Here is a true story from many years ago – another time, another place.
David Baker,

rector of the churches of East Dean with Friston and Jevington, East Sussex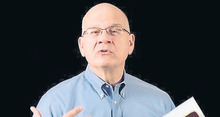 I was in a Christian library somewhere (I shall not say where) and someone I knew slightly (who I shall not name) came up to me, eyes bright, and pointed at a new book which had just been written by Alister McGrath, the evangelical academic.